This blog will give you all that detailed information about the famous cellular companies in Cambodia. The following article will guide you to pick the best mobile operators to make your stay fun. Some top mobile operators in Cambodia can be listed here:
On arrival, Cambodia for travel or business may have left you perplexed over mobile networks. This could probably raise the question of what is the cheapest yet the most powerful SIM card in the country. In order to address the same, keep on reading.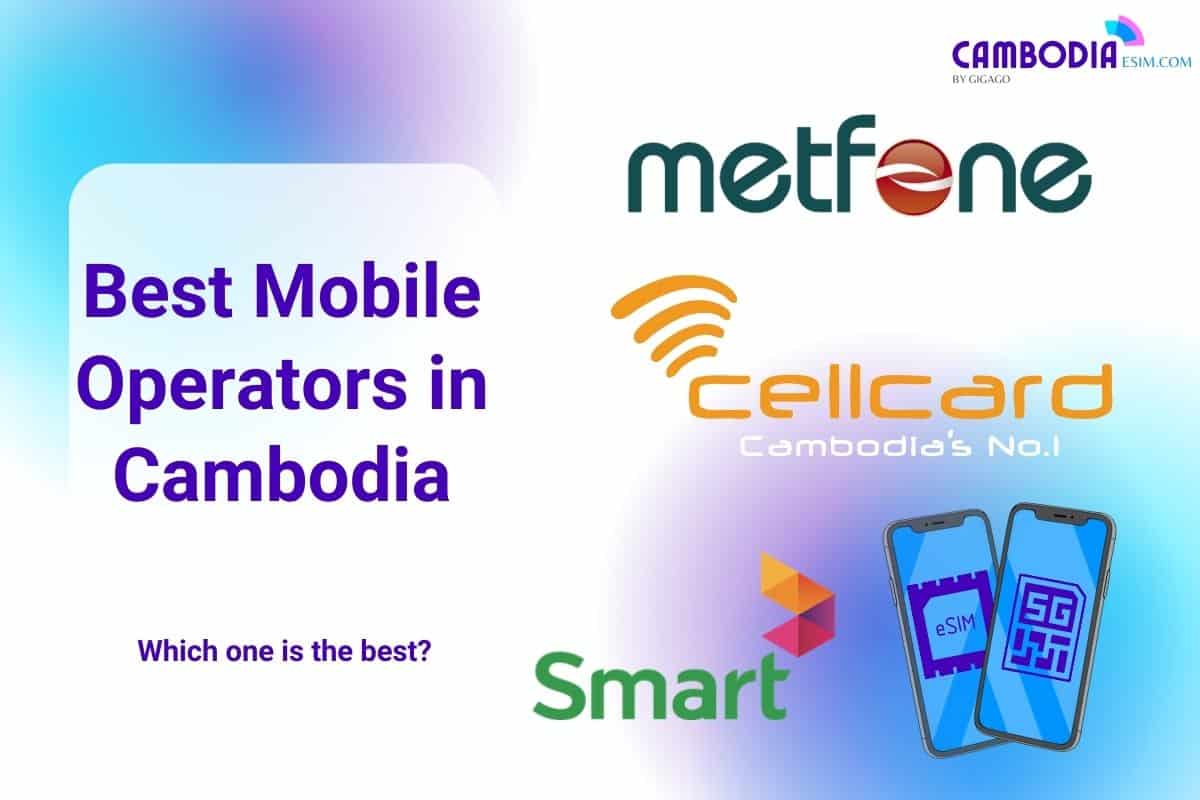 I. List of Mobile Operators in Cambodia
Previously, there were approximately nine mobile operators in Cambodia. However, the number has now been reduced to only five.
1. Metfone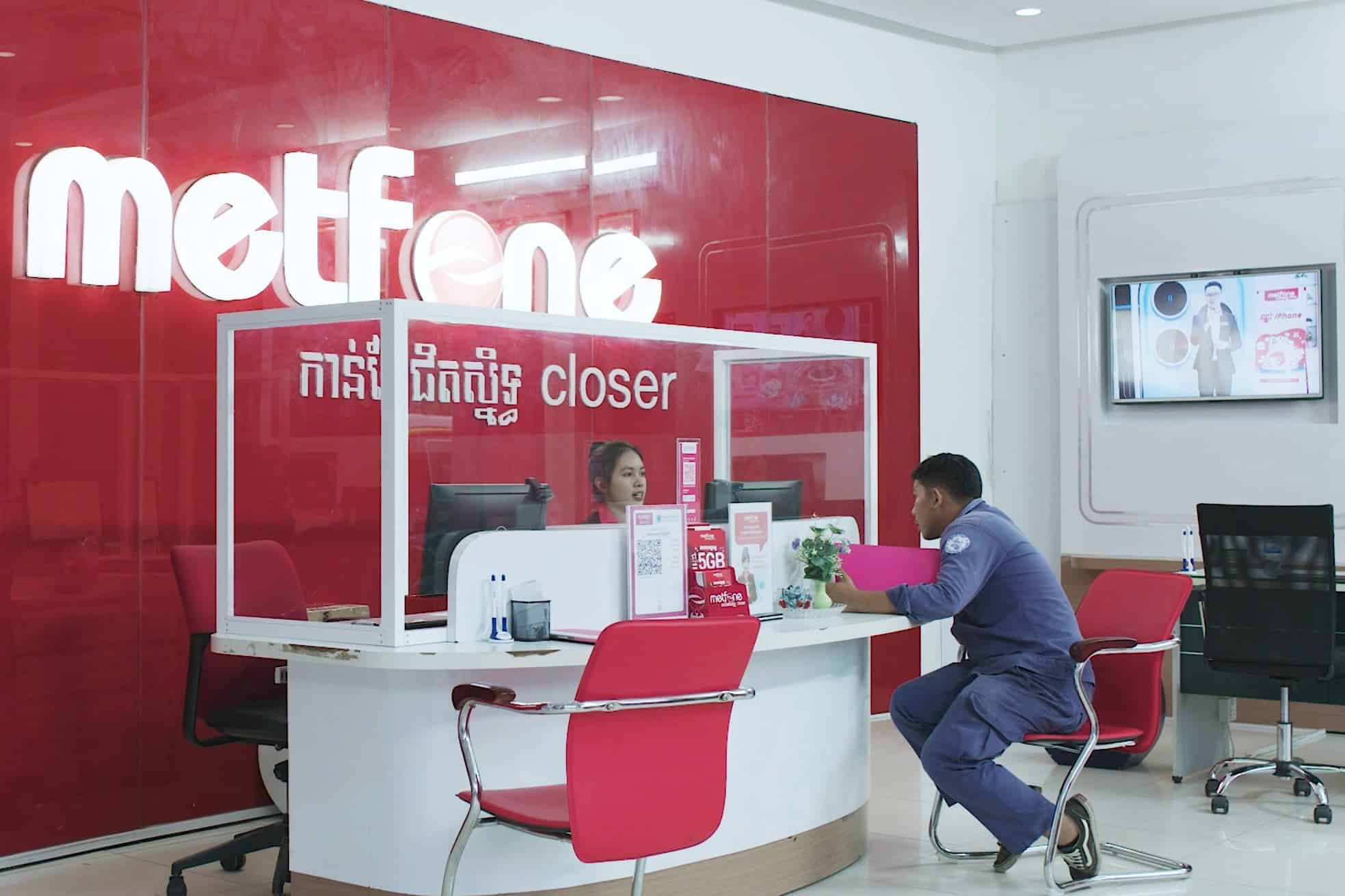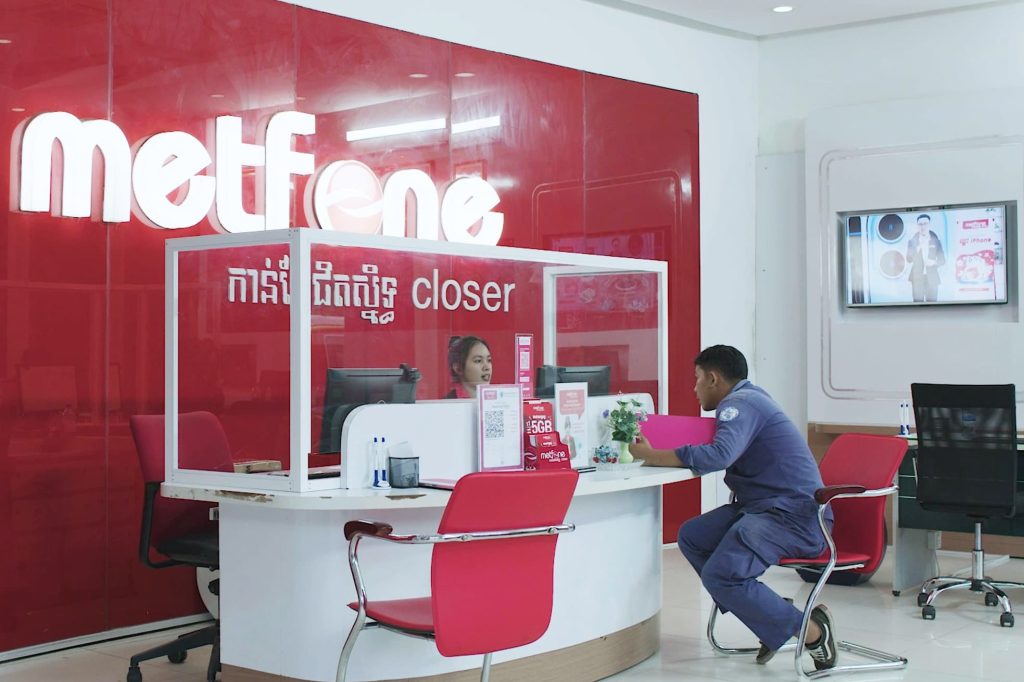 In 2009, Viettel brand invested in Metfone which is a mobile operator in Cambodia. By the time, Metfone has managed to gather around 10 million subscribers and it can be regarded as one of the leading network operators, possessing 50 percent of the Cambodian telecommunication industry market.
2. Smart Axiata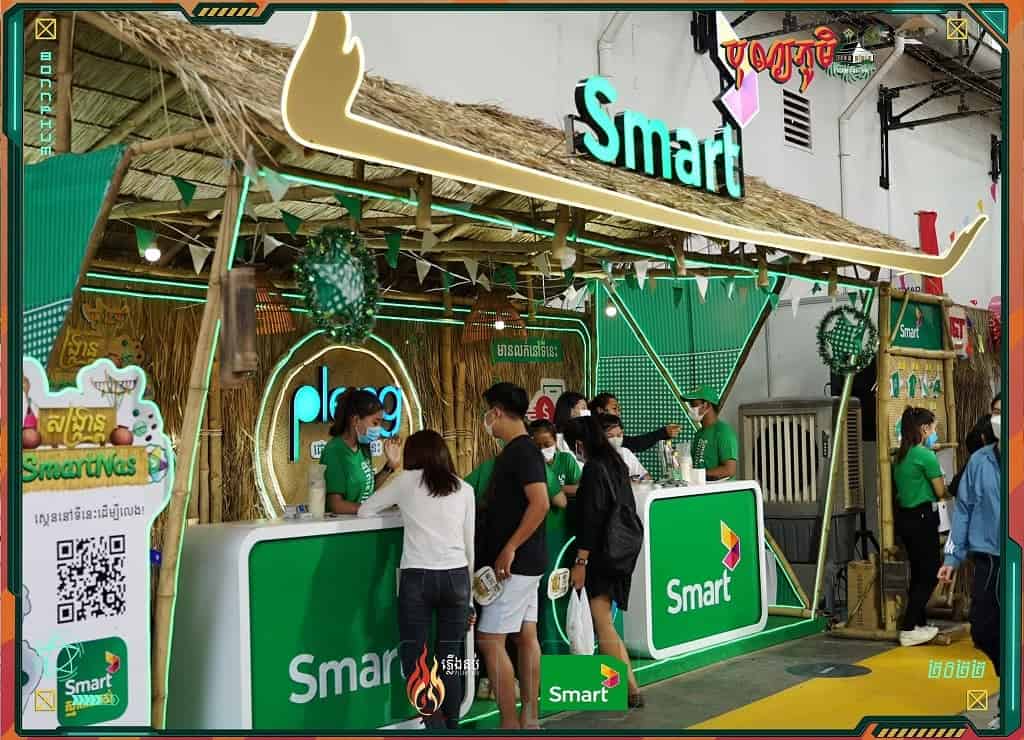 One of the largest mobile operators in Cambodia is Smart Axiata, also known as Smart Mobile and Hello Axiata. Operated by Axiata Group Berhad, Smart Axiata has excellent Cambodian coverage at 98 percent (3G / 4G/LTE).
3. Cellcard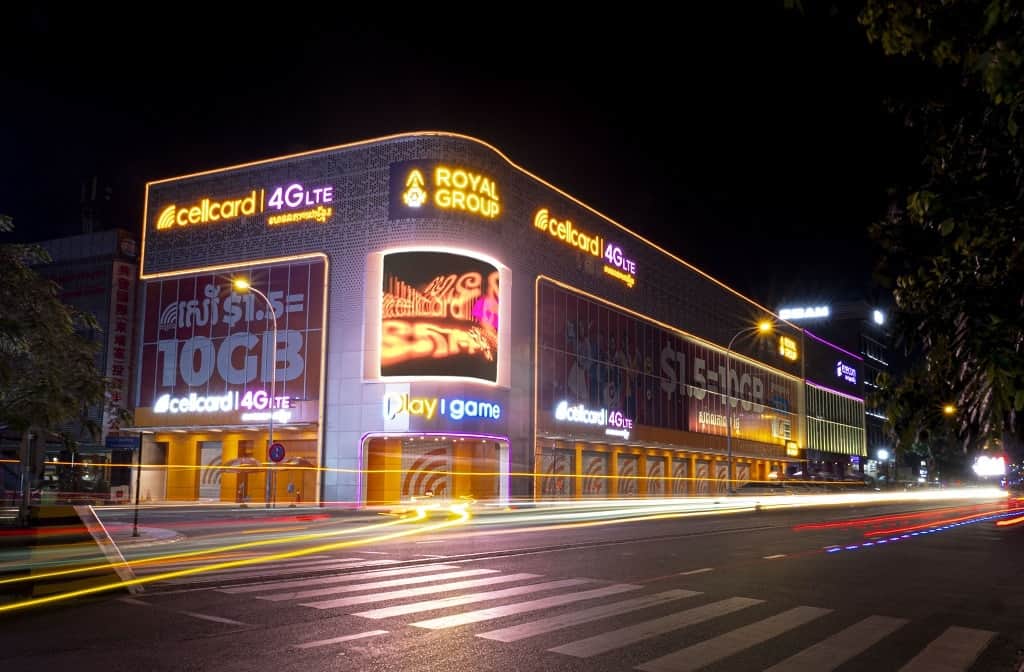 Cellcard is one of the biggest and popular mobile operators in Cambodia. Cellcard started as a joint-stock company established in 1997 under CamGSM Co. Ltd in Cambodia. After 26 years, people have trust and believe in it. 5G cell connections are the strongest mobile network operator Cellcard in Cambodia.
4. Yes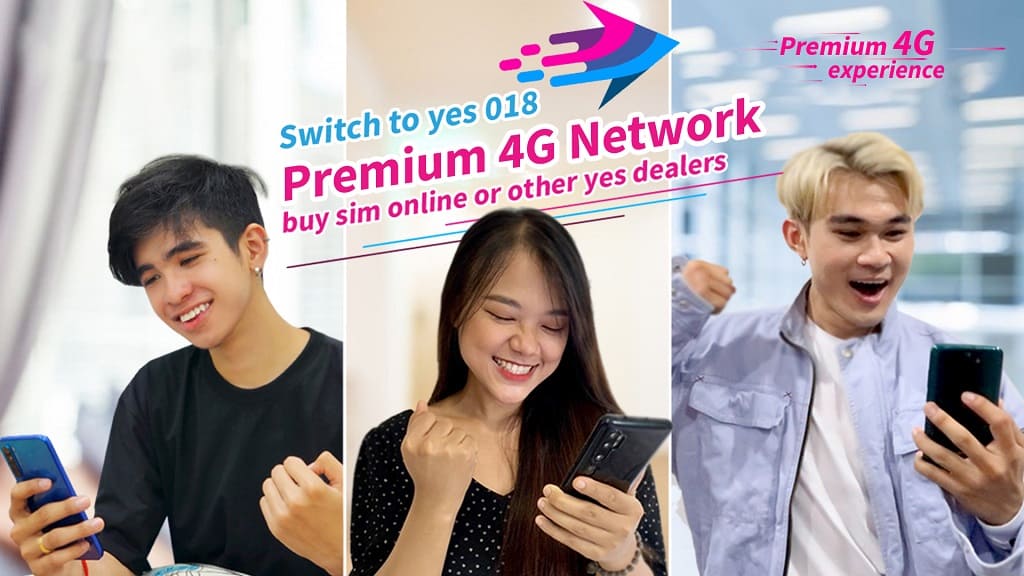 Yes is a specialized network operator that was established in 2014 and focuses on providing the best digital services of high quality in Cambodia. Specifically, Yes has also been referred to as the only telecom company that offers a full 4G / LTE service nationwide. Its internet speed is very high, and its connection is extensive.
5. Cootel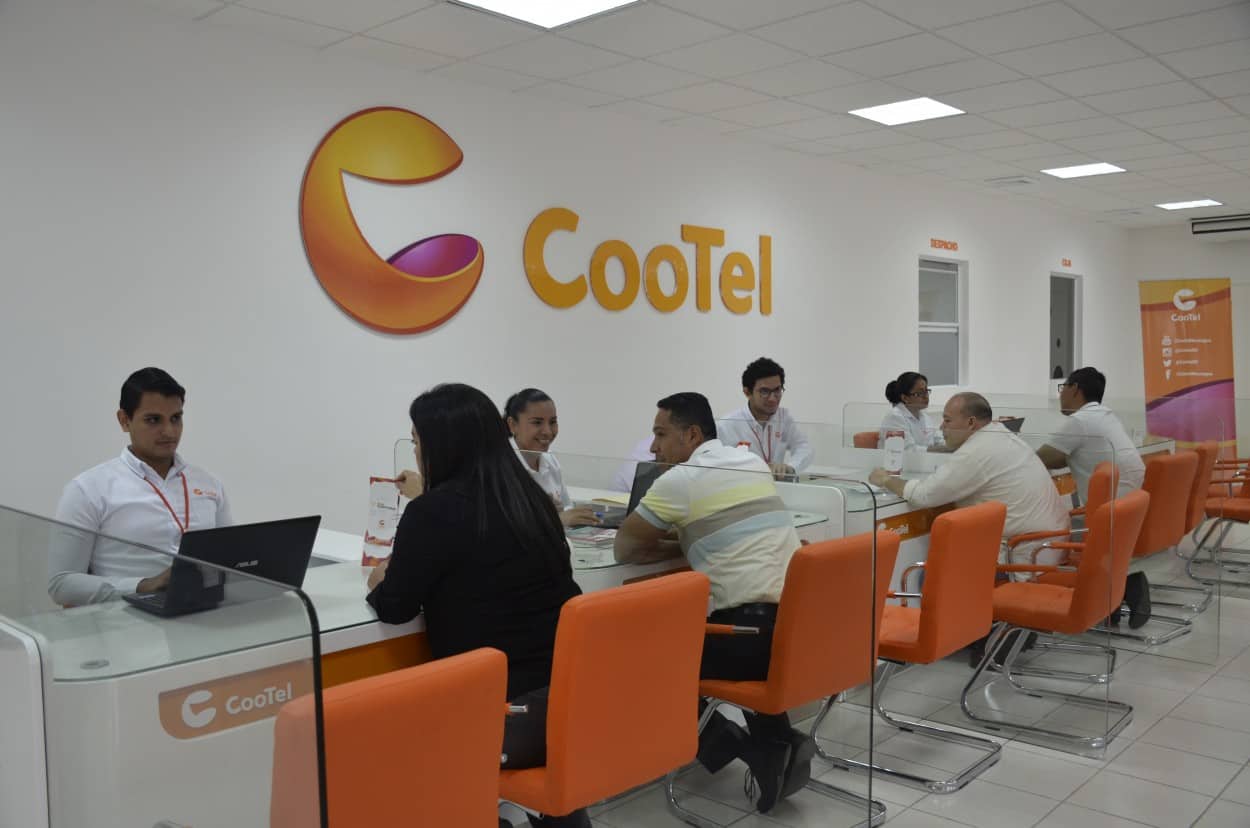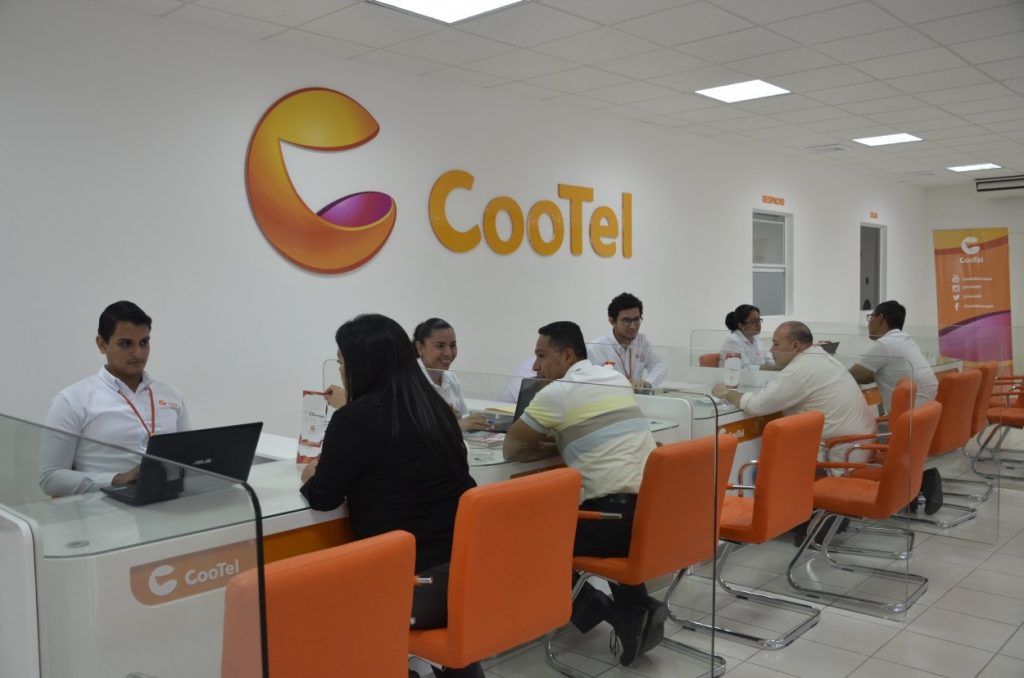 Cootel joined the telecommunications network market in Cambodia back in 2013. This company was allowed by the government of Cambodia to work on the 4G super fast network services hence becoming the first brand that brought the 4G technologies in Cambodia.
II. How to Choose the Best Mobile Operators in Cambodia?
Nevertheless, the process of selecting any reputable Cambodian mobile operator could really pose a challenge. To help you make an informed decision, consider the following evaluation criteria:
Brand Reputation: Choose a mobile operator, which is well-known in Cambodia and having much practice in the local market. Many of them always need to maintain a superior quality to maintain their reputation.
Coverage: When traveling in Cambodia ensure you select a reliable mobile operator that will keep you reachable even if travelling through remote areas.
Internet Data Availability: Choose internet-based mobile phone operator since it cannot be guaranteed that there are public WiFi hotspots all over Cambodia. The quality of the online experience depends on good internet speed.
SIM Card Costs: Issues of affordability are also important for consideration. You may look for friendly SIM cards and fascinating contract services; doing this will save money when in Cambodia.
III. Best Mobile Operators in Cambodia
Here are three recommendations of mobile operators in Cambodia to consider when traveling, working, or residing in Cambodia:
1. Metfone
Cambodia's top provider of mobile services with over ten million subscribers. The products keep receiving customer approval as they retain more than 50% of the Cambodian market.
1.1. Coverage
Metfone holds the largest share and possesses the best network coverage compared to other mobile operators in Cambodia. Here is a comprehensive coverage map of Metfone: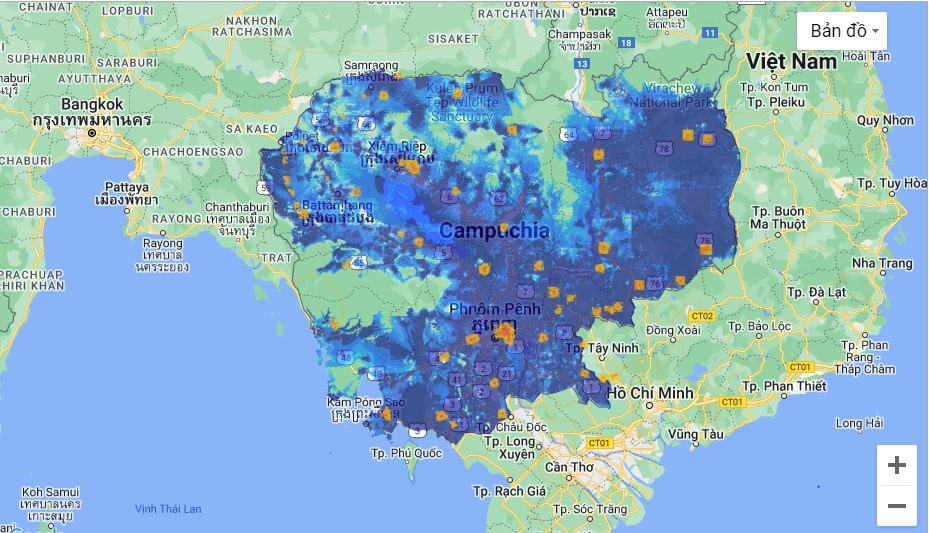 1.2. Speed
The report by open signal indicates that Metfone has a mean download speed of 11.1Mbps and mean upload speed of 5.5 Mbps.
In the 4G network, Metfone's mean download speed is 12.2 Mbps, and mean upload speed of 6.1 Mbps accordingly.
1.3. SIM Plans for Tourists
The price of a prepaid data-only service provided by Metfone is perfect for tourists. You can find the details in the table below:
Internet Plan
Name
Fee
Data High Speed
To register
Validity
Default
MI0
$0
2.5 cents/MB
*1522*0#
Daily
MID
10 cents
100MB
*1522*1*1#
1 day
Night
MIDN
10 cents
$999
*1522*110#
11:00PM - 6:00AM
Weekly
MIW
$1
4 GB + 399 minutes call on-net, 399 SMS on-net
*1522*71#
7 days
Monthly
MI1
$1
700 MB
*1522*1#
30 days
MI2
$2
1.5 GB
*1522*2#
30 days
MI3
$3
4 GB
*1522*1*3#
30 days
MI5
$5
7 GB
*1522*5#
30 days
MI10
$10
15 GB
*1522*10#
30 days
MI20
$20
30 GB
*1522*20#
30 days
4Ever
MI4E1
$1
1500 MB
*1522*41#
4ever
MI4E2
$2
3500 MB
*1522*42#
4ever
Check out Metfone eSIM plans.
1.4. Where and How to Buy a Metfone SIM Card:
Purchasing a Metfone SIM card is convenient and straightforward. You have two options:
2. Smart
Smart is one of the largest mobile operators, as well as the most popular low-cost carrier in Cambodia. This company provides quality 3G and 4G/LTE service for 8 Million people in the country.
2.1. Coverage
Since 2021, Smart has built more than 300 base stations across several provinces in Cambodia, covering up to its 4G network network. Such additional locations enhanced Smart's 4G LTE network coverage in at least nine provinces resulting to better user experience.
The 300 new sites included 78 base stations which were established in Siem Reap province, 37 in Kampong Cham, 39 in Battambang, 24 in Banteay Meanchey, 17 in Kampong Speu,
Here is a comprehensive coverage map of Smart: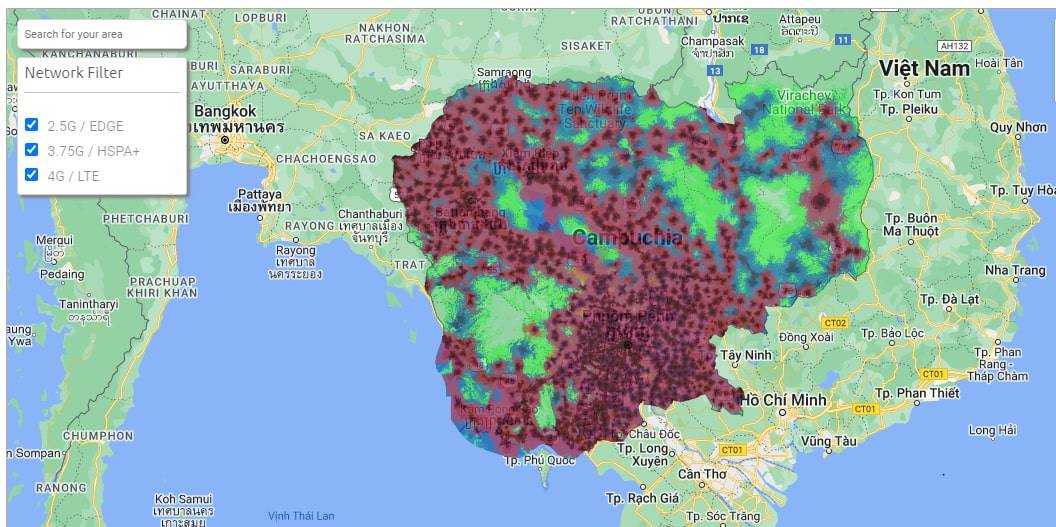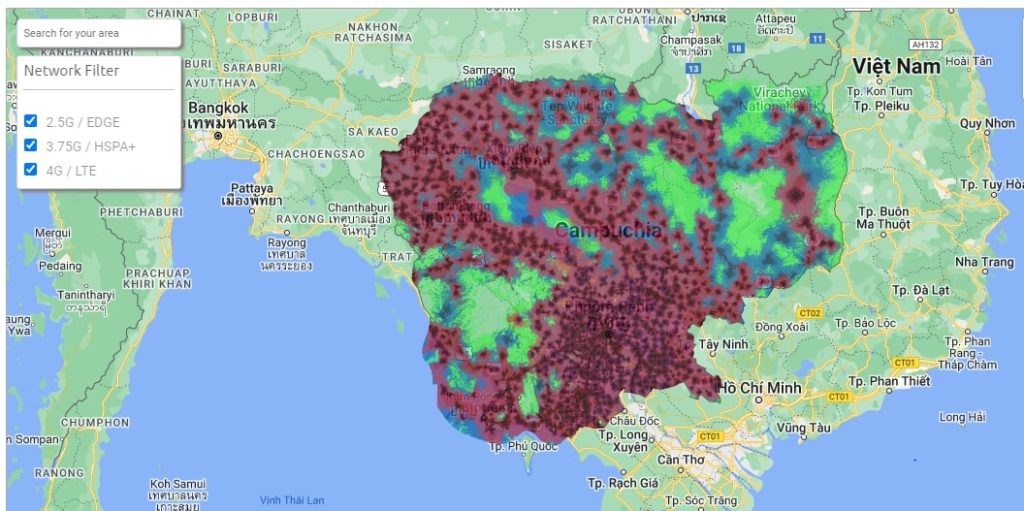 2.2. Speed
According to Open Signal's reports, the mean download speed for Smart is 15.7 Mbps, whereas the mean upload speed is 5.5 Mbps.
Smart's average download speed goes up to 16.7 Mbps, and the upload speed rises to 5.8 Mbps.
2.3. SIM Plans for Tourists
Smart offers two exclusive SIM packages specifically designed for travelers:
Smart Traveler SIM (FREE)
Smart Traveler SIM Standard (only $5)
For more information, please refer to the table below:
| | | |
| --- | --- | --- |
| | Free | Standard |
| Data | 100MB | 25GB |
| On-Net Calls | 10 min | 250 min |
| On-Net SMS | 10 SMS | 250 SMS |
| Off-Net Calls and Calls to Selected Countries* | N/A | 25 min |
| Validity | 3 days | 15 days |
Check out more Smart eSIM plans from Cambodia eSIM:
2.4. Where and How to Buy a Smart SIM Card
You can also buy Smart SIM cards like at any major Cambodian carrier as the case is from the international airports. Alternatively, you can easily locate the nearest Smart stores by visiting: https://www.smart.com.kh/shop-finder/
3. Cellcard
Cellcard is the 3rd biggest telecom operating in a country offering cheap prepay SIMs and effective 3G and 4G/LTE infrastructure in Cambodia. Worse still, these companies have extensive service coverage in almost every city and town of Cambodia.
Cellcard, a telecommunication company with more than three million clients, offers different SIM variants, comprising of mobile SIM cards and special travel SIM cards with a high speed internet connection. For an best mobile experience, consider Cellcard services.
3.1. Coverage
Cellcard offers services like 3.75G/ HSPA+, and 4G/LTE with over 90% coverage of Cambodia's territory.
Here is a comprehensive coverage map of Cellcard: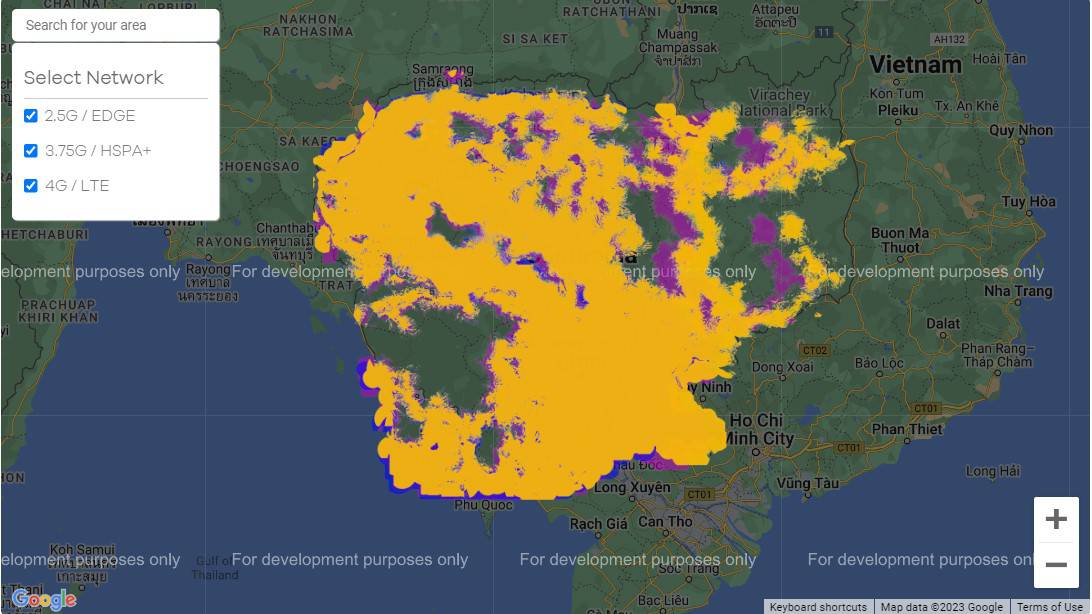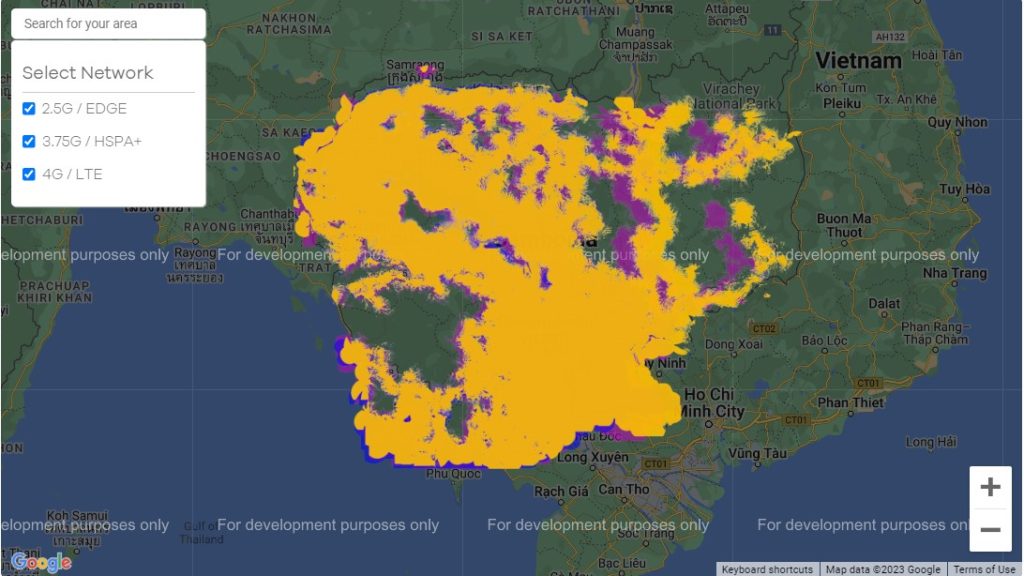 3.2. Speed
According to Open Signal's report, Cellcard has an average download speed of 18.8Mbps and average upload speed of 5.5Mbps.
The cellcard's mean download speed on the 4g network platform is 22.4 Mb, while the average upload speed is 6.5 Mbps on the same network.
3.3. SIM plans for Tourists
Cellcard provides special tourist SIM kits from $0 for sure. Besides, while buying these SIM packages you also get 50 % off in your Grab booking.
For more information, please refer to the table below:
FREE SIMCARD
$3 PACKAGE
$5 PACKAGE
$10 PACKAGE
INTERNET DATA
100MB
15GB (+Extra 15GB for your first subscription)
25GB (+Extra 25GB for your first subscription)
50GB (+Extra 50GB for your first subscription)
ON-NET CALLS
10 Mins
100 Mins
2500 Mins
5000 Mins
ON-NET SMS
10 SMS
100 SMS
2500 SMS
5000 SMS
VALIDITY
3 Days
7 Days
30 Days
30 Days
50% OFF ON GRAB
3.4. Where and How to Buy a Cellcard SIM Card
It convenient to buy a cellcard sim at cellcard stores. To locate the nearest Cellcard store, you can visit: https://www.cellcard.com.kh/en/detail/cellcard-shops/
This would mean that customers would be able to access Cellcard's SIM cards on a global scale with no difficulties at major international airports like Phnom Penh International Airport, REP and others.
V. Mobile Operators in Cambodia – Detailed Comparisons
In an open signal report of February 2023, there were differences in service experienced by mobile operators users in cambodia. When talking about users, each carrier has something to brag with. Here are the key comparisons:
1. Download Speed
Cellcard is considered as one of the fastest operators in the download section in Cambodia. It has an average download score of 18.8Mbps, better than Smart's 15.7Mbps by a margin of 3.1Mbps. Thirdly, the Metfone has 11.1Mbps.


2. Video and Games Experience
The leading carrier in terms of video and game experience is Cellcard and Smart. The evaluation results are similar for both carriers. For video experience, Cellcard and Smart got 53.2 – 54.5 points, whereas Metfone recorded 48.2 points on a 100-point scale.


On the subject of games experience, Cellcard and Smart scored 45.9-47.4 points, compared to Metfone's 44.9 points. Impressive performance of the three largest carriers in Cambodia.

3. Consistent Quality
Cellcard is ranked first in the user ratings regarding high and uninterrupted quality of the application in demanding tasks. This rating is 63.5% compared to Smart's 4.7%.


Despite this, on core consistent quality, Smart ranks first with 82.2% while Cellcard is trailing below 1.1%.


4. Coverage
Both Metfone and Smart offer strong and extensive coverage. Smart dominates with its ability to provide a 4G network availability, while Metfone is rated as the carrier with the best 4G coverage experience.
Tips: Coverage is a very important criterion for those who have long trips with various destinations in Cambodia, especially in the sea or remote mountainous areas.




5. Voice App Experience
The Opensignal 2023 report ranks Smart first in voice app experience, scoring 74.7 out of 100 points. Smart surpasses Metfone by 1.9 points (72.8 points). Smart consistently outperformed Metfone in the OpenSignal reports for both 2022 and 2023. Smart is currently considered Cambodia's only mobile network operator, consistently falling in the "good" category with scores ranging from 74 to 80. Meanwhile, Cellcard and Metfone are rated one level lower.


Tips: Based on these criteria above and your own usage demands to decide which Cambodia mobile operator to choose for your trip.
VI. Where to Buy SIM Cards from Mobile Operators in Cambodia?
While it is easy to purchase a mobile SIM card in Cambodia, how to do so correctly is crucial. There are numerous avenues you can adopt to acquire a SIM card in the nation. Here are some options:
Purchase from phone stores: Nevertheless, SIM card prices may be high in those shops and one might end up buying poor quality SIM cards that are not connecting.
Purchase from mobile operators' outlets: It is good to purchase a SIM card directly from the service provider's official outlets. This is often the case as the quality is better and the price is lower, with the purchasing process being simplified as well.
Buy SIM cards at Cambodia Airports: Several mobile operators in Cambodia have established airport sales points. Once you reach Cambodia, it is pretty simple to get a SIM card from a trustworthy operator. All that you are required to give is your valid visa, passport, and payment for the SIM card.
Cambodia eSIM plans could be an option for the SIM card.
Notes: In Cambodia, you could also be required to have some identity documents to register SIM cards. Therefore,
VII. Where to get eSIM for Cambodia travel?
If you're planning a trip to Cambodia and wondering where to purchase a SIM card, look no further than CambodiaeSIM.com. We are a leading provider of high-quality and reputable Cambodia eSIMs at the best prices. When you choose Cambodia eSIM, you can take advantage of the following attractive offers:
Our eSIM service provides access to the networks of the two largest carriers in Cambodia: Smart and Metfone.
Have a variety of data plans including fast options which are between 3GB and 50GB.
For your ease and choice we also provide the usage periods of 5-30 days.
Enjoy super-fast internet, including 5G and above.
Get your SIM through your mailbox with an easy access and quick delivery service.
Our eSIMs automatically connect whenever it senses the network provider.
Get a cheap SIM card and use it everywhere except for data roaming.
Get to know easy transactions, such as Paypal and credit cards.
For more information and detailed advice on available SIM types, prices, or service-related inquiries, please visit CambodiaeSIM.com. We are available to support you at any time.
VIII. FAQs about Mobile Operators in Cambodia
1. How many mobile operators are there in Cambodia?
About nine mobile operators existed previously in Cambodia. On the other hand, the figure has gone downhill to just five. These include Metfone, Smart, Cellcard, yes, and Cootel.
2. Which is the best Telco in Cambodia?
Cambodia has three major network operators—Metfone, Smart, and Cell card, which are the largest ones in the country. Every carrier possesses certain competencies which render it distinct from others.
3. Which is the largest mobile operator in Cambodia?
Metfone currently dominates the Cambodian mobile market as it holds approximately 10 million subscribers, which represents over half the market share.