To have the best out of a stay in the culturally rich nation for travelers, one must remain connected throughout. To ensure seamless communication, Cambodia offers two convenient options: Advanced eSIM technology and standard traditional SIM cards. The two options are distinctive with different perks targeting all kinds of travelers.
This article explores more about Cambodia SIM cards in detail.
Now, let's get started!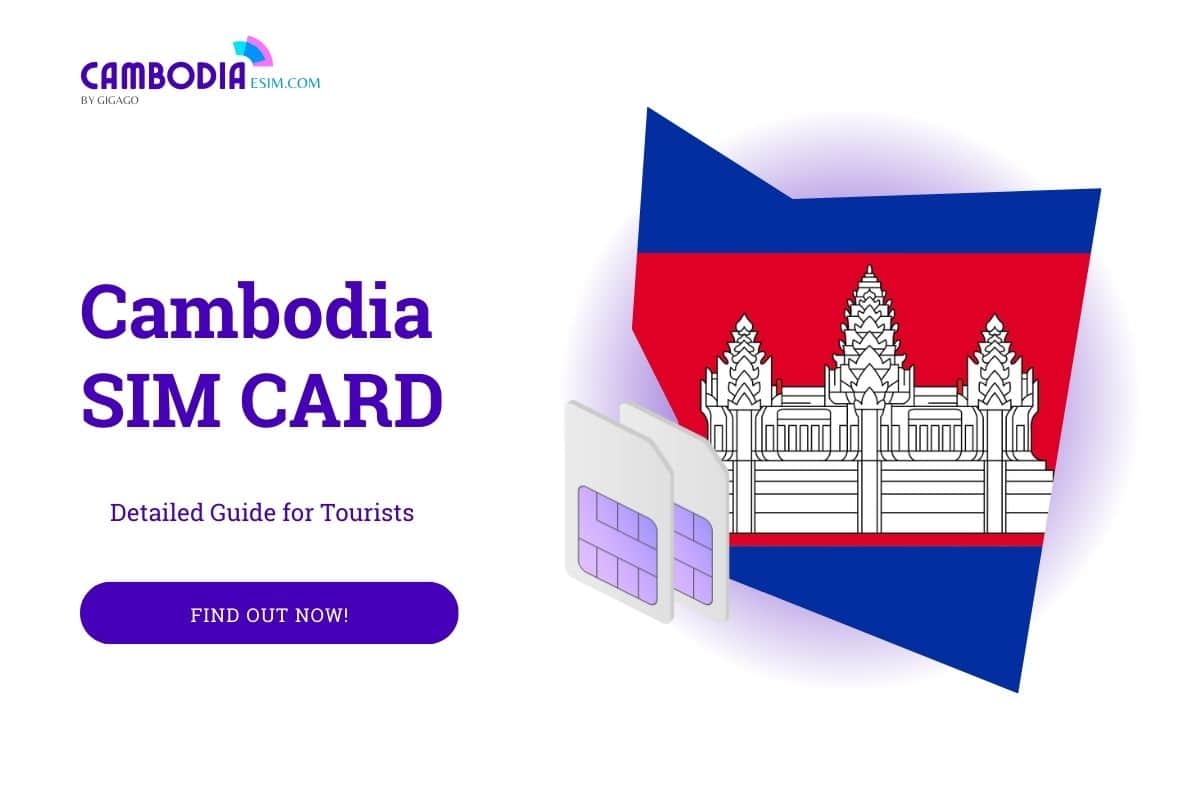 Table of Contents
I. Why Should You Get a Cambodia SIM Card for Your Trip?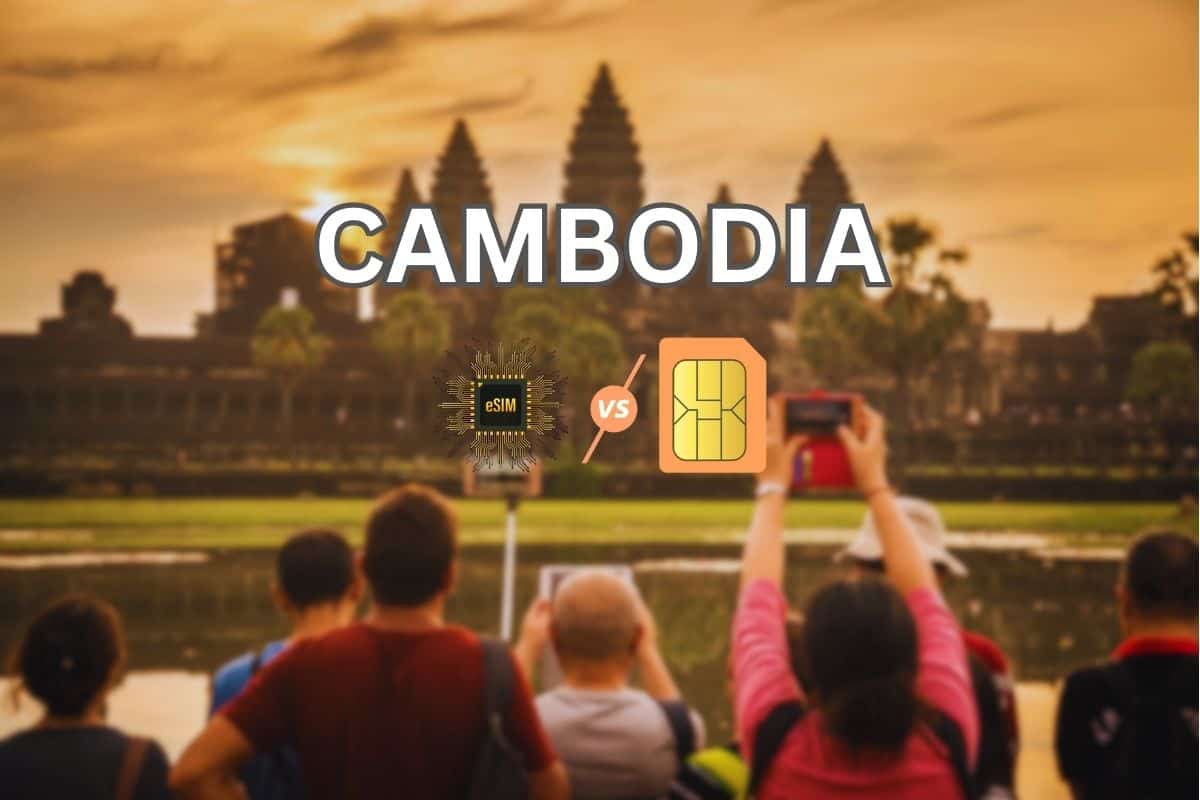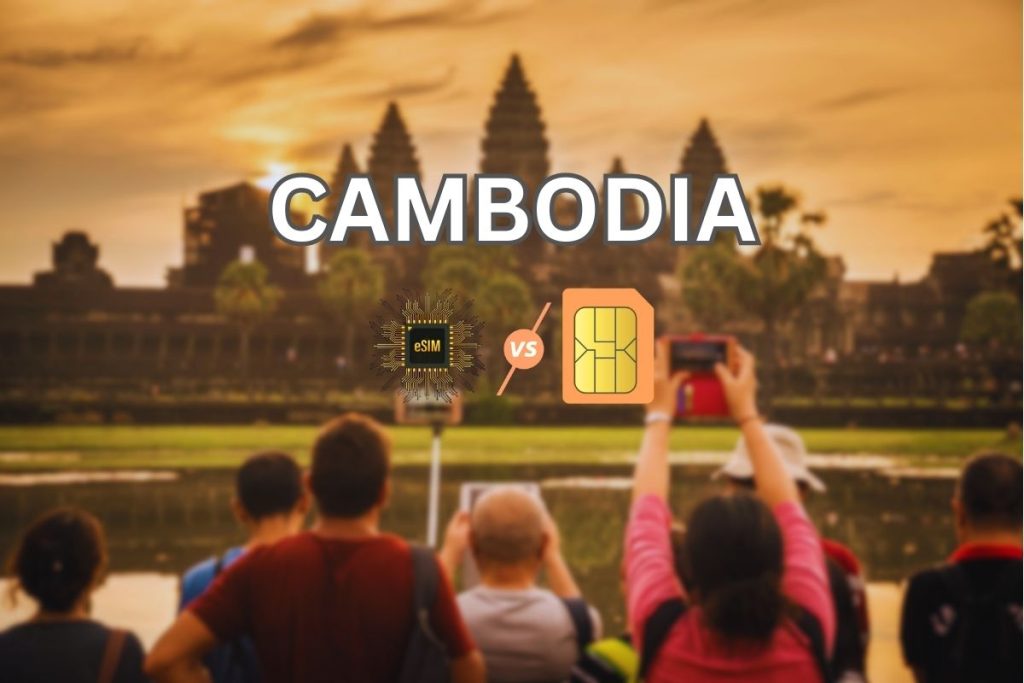 The most important issue for many travelers going to Cambodia is about being connected. Considering more people have smartphones and they need internet connectivity when on the move, buying a local Cambodia SIM card or eSIM becomes essential. Why?
Here are some reasons:
Cost-Effective Communication: Instead, it would be cheaper to buy a local SIM card if they visit Cambodia compared to international roaming. Purchasing a local SIM card enables one to enjoy local rates on data, calls, and texts thereby minimizing communication expenditure in a trip.
Uninterrupted Connectivity: When one travels to a different country, they have to stay connected. You will have an uninterrupted data connection via a Cambodian SIM or eSim for internet browsing, social networking, maps, etc. This makes it easy for you to talk to your friends, share travel stories, and get some important data while moving.
Ease of Navigation: Navigating your way around Cambodia becomes easy with a local SIM card or eSIM and the use of applications such as Google Maps. Here it might be very useful to be able to find a way to discover new places, tourist attraction sites and cheap and nice eating houses of the locals as you wish.
Local Discounts and Promotions: Some mobile network operators offer exclusive deals, discounts, and promotions to tourists who purchase a Cambodia prepaid eSIM or SIM card.
II. Cambodia Mobile Speeds, Mobile Internet Prices & Insights
Cambodia remains one of the cheapest places in Southeast Asia when it comes to mobile data. It attracts a host of travelers courtesy of its very friendly prices for mobile internet. Let us examine the price of mobile and mobile internet speed in Cambodia.
1. Cambodia Mobile Internet Prices
For instance, the charges for a megabyte of mobile data in Cambodia are much lower than average figures at the global or comparative levels. Recent statistics indicate that Cambodia pays only 0.42 dollars per 1 gigabyte whereas the average price of 1 GigaByte for Asia is 1.47 dollars and for the world – 3.12 dollars.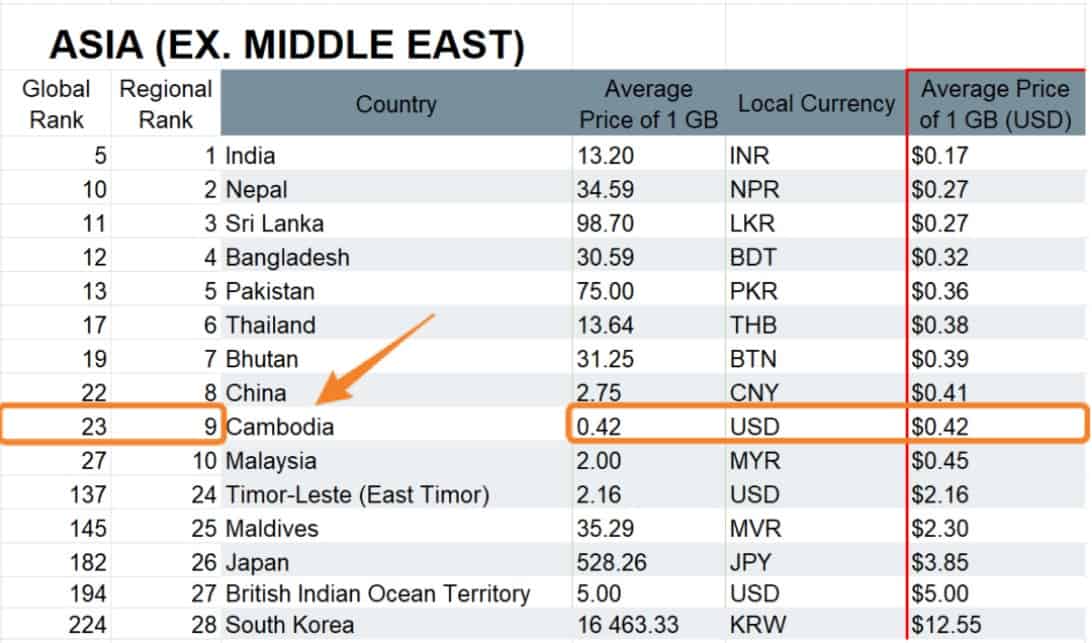 As such, Camedob stands fifth from bottom country in Asia, other than Middle East where by Cambodia ranks ninth with the lowest mobile data cost.
2. Cambodia Mobile Internet Speeds
Mobile users in Cambodia should be aware that though it has cheap rate of mobile data, the download speed is generally not too fast like in other countries.
On average, the national median for mobile download speeds in Cambodia is at 22.79 Mbps, which falls below the worldwide mean download speed of roughly 42.3 Mbps.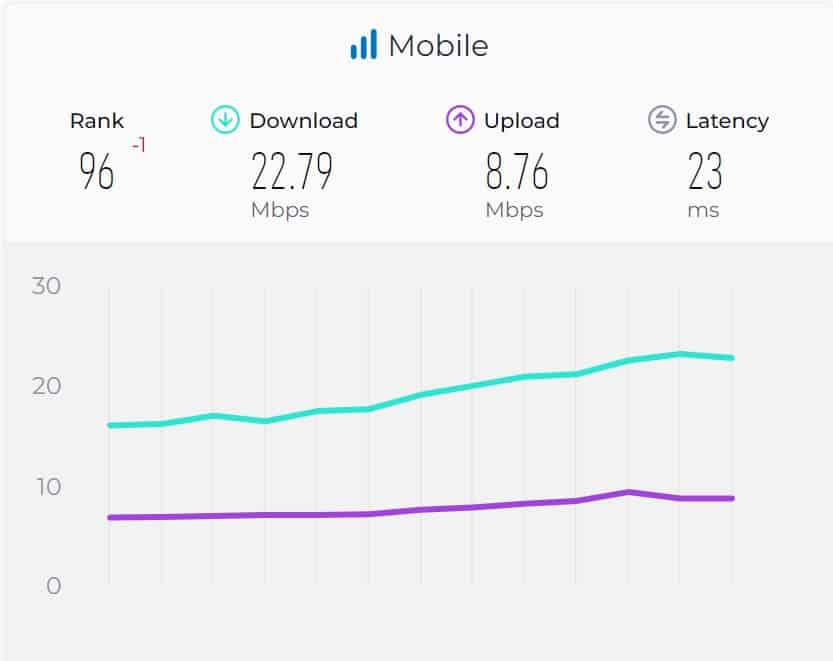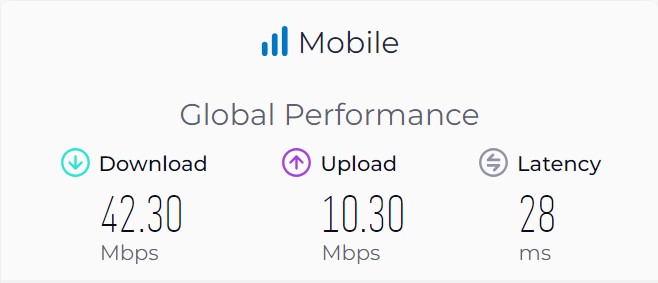 Cambodia's download speed is lower compared to other neighboring countries which include Laos, Thailand and Vietnam.
As a matter of fact, among the best mobile operators in Cambodia, Cellcard has highest average download speed of 18.8 Mbps. They are followed by Smart at 15.7 Mbps, Metfone, among others.
However, when it comes to 4G/LTE speed Cellcard remains in front with average download rate being 22.4 Mpbs, Smart – 16.7 Mpbs, Metfone – 12.2 Mpbs. The operators remain constantly concerned about improving their network, hence ensuring a good mobile experience at all times.

III. Types of Cambodia SIM Cards for Tourists
There are 2 types of Cambodia SIM Cards: Physical SIM and eSIM.
1. Physical SIM
Traditional SIM cards are physical Cambodia SIM cards. The SIMs can be of different sizes: mini-, micro-, and nano-SIM depending on a particular version of smartphones.
Tourist SIM cards are specially developed for people travelling and they have very specific tariffing: cheaper calls, messages sent or received and Internet connection. It is possible to buy Cambodia SIM cards at airports and certain convenience stores in Cambodia. Similar to how you acquire a prepaid local SIM card, they also need a validated passport.
2. Prepaid Cambodia eSIM for Tourist
The prepaid tourist eSIM for Cambodia is a comparatively fresh alternative that has become popular among tourists. One can also purchase this portable virtual SIM card online that keeps a person connected all over Cambodia through just changing of physical SIM cards.
Many tourists go for a data-only eSIM as they look to cut down on operational costs and communicate using communication app services.
IV. Where to Buy Cambodia SIM Cards & eSIM for Tourists?
1. Where to Buy Cambodia SIM Cards for Tourists?
In Cambodia, you can easily obtain a SIM card from various sources:
Purchase from phone stores: For example, it is possible to buy a SIM card in many phone shops located around Cambodia. Nevertheless, one should tread carefully because you may find cheap, faulty SIM cards that do not have any connectivity.
Purchase from mobile operators' outlets: Buying an original SIM card at the official outlets of the telecom operator would provide a trusted as well as easy experience. It promotes higher quality, favorable prices, and simplify procurement. You can get an SIM card from the shops of well-known Cambodian mobile operators, such as Metfone, Smart, and Cellcard.
Buy SIM cards at Cambodia airports: Most airports would offer convenience by selling SIM cards supplied by mobile service operators, such as Smart or Mfone. You do not have to worry about this when you get into Cambodia as you can also buy a SIM card from any of the reliable providers.
2. Where to Buy Cambodia eSIM?
Going on a trip to Cambodia and seeking the most effective means of staying in touch with friends back home? CambodiaeSIM.com, one of the leading providers of superior quality and professional Cambodia eSIMs at the most competitive rates is the place for you. Therefore, Cambodia eSIM is your best bet having in mind its unparalleled convenience and many mouthwatering deals.
Why Choose CambodiaeSIM.com? Below are some reasons why:
Top carriers: The choice of the Cambodia eSIM allows using networks of two largest providers in this country such as Smart and Metfone. It guarantees that your network will be strong in every corner of the country where you travel.
Flexible Data Plans: There are different data plans available with Cambodia eSIM for your convenience. There are diverse internet data plans available that suit different purposes; these range from as low as 3GB to high end ones of up to 25GB. Don't worry when visiting exciting sites in Cambodia as you will be safe from running out of data.
Convenience and Choice: Each traveller has different needs and we understand this.ҽ Hence, Cambodia's eSim is so adaptive that it enables picking the suitable trip usage period for each day. We have options ranging from 5 days to 30 days of connectivity when you require it.
Blazing Fast Internet Speeds: Our fast internet connection (powered by a stunning 5G/4G/LTE) lets you stay connected. Post your social experiences onto your profiles, surf through the internet, and enjoy with your peers from time to time.
Automatic Network Connection: It's conveniently designed eSIMs. On arrival in Cambodia, your eSIM will automatically activate with the local mobile network provider for instant access to internet and making calls.
Flexible Payment Options: For this reason, we try our best for the most comfortable and easier experiences of you. To make purchasing easier, Cambodia eSIM provides convenient payment methods such as PayPal and credit card payments.
For more information and detailed advice on available eSIM plans, prices, or any service-related inquiries, please visit CambodiaeSIM.com.
V. How Do Cambodia SIM Cards & eSIM Cost?
1. Cambodia SIM Cards Cost
The price of a SIM in Cambodia varies depending on the operator and type of package preferred. The cost typically ranges between one and two dollars without taking into consideration the cost of data and call packages. Metfone, Smart and Cellcard are some of the major carriers that also offer free sim cards thus one can easily purchase a sim card and a bundle depending on one's budget without much hassle.
Regarding the price of data and call packages, you can refer to the table comparing plans provided by the three largest Cambodia mobile operators:
Operator
Plan
Price
Data
On-Net Calls
On-Net SMS
Validity
Price/GB
Metfone
MI0
$0
2.5 cents/MB
-
-
-
-
MID
$0.1
100MB
-
-
1 day
$1/GB
MIDN
$0.1
$999
-
-
11:00PM - 6:00AM
-
MIW
$1
4GB
399 mins
399 SMS
7 days
$0.25/GB
MI1
$1
700MB
-
-
30 days
$1.43/GB
MI2
$2
1.5GB
-
-
30 days
$1.33/GB
MI3
$3
4GB
-
-
30 days
$0.75/GB
MI5
$5
7GB
-
-
30 days
$0.71/GB
MI10
$10
15GB
-
-
30 days
$0.67/GB
MI20
$20
30GB
-
-
30 days
$0.67/GB
MI4E1
$1
1500MB
-
-
4ever
$0.67/GB
MI4E2
$2
3500MB
-
-
4ever
$0.57/GB
Smart
Free
$0
100MB
10 mins
10 SMS
3 days
-
Standard
$5
25GB
250 mins
250 SMS
15 days
$0.20/GB
Cellcard
Free SIM CARD
$0
100MB
10 mins
10 SMS
3 days
-
$3 PACKAGE
$3
15GB (+Extra 15GB for your first subscription)
100 mins
100 SMS
7 days
$0.2/GB
$5 PACKAGE
$5
25GB (+Extra 25GB for your first subscription)
2500 mins
2500 SMS
30 days
$0.20/GB
$10 PACKAGE
$10
50GB (+Extra 50GB for your first subscription)
5000 mins
5000 SMS
30 days
$0.20/GB
Tips:
There are also other choices such as free SIM card and Smart Free options available on Cellcard's website.
If you require huge data go for big plans like cellcard's $10 package (50 gb) or metfone's Mi20 plan ( 30 GB).
For instance, choose packages such as Cellcard's $5 Package and Cellcard's $10 Package if you expect more on-net calling and sending SMS.
On the other hand, if price is important to you, do a comparison of the price per GB on different plans. In most cases the Smart and Cellcard offer plans with lesser price by GB ($0.20/GB).
Choose a plan whose lifespan is fitting with yours if you want to consider your stay. For long trips or extended periods of time some suitable prepaid SIM Cards plans are Metfone's MI2o, Cellcard's S$ 5 PACKAGE, and Cellcard's S$ 10 PACKAGE, all with 30 days of.
Also, check on what other supplements and bonuses are in the offer package of the plans. For instance, if you subscribe with CellCard, you will get some free data on your package. Therefore, it gives you a better deal.
2. Cambodia eSIM Cost
The cost of eSIM in Cambodia is influenced by various factors, including the service provider, type of device, and data plan you choose.
Let's explore Cambodia's eSIM data plans designed specifically for tourists, giving you a quick overview of the cost options.
Tip: Explore more Cambodia eSIM plans to choose the best plan for your trip to Cambodia.
VI. Cambodia SIM Cards vs. eSIM: Which One is Suitable for Your Trips?
However, Cambodia provides users with both traditional SIM cards and eSIM (embedded SIM). Let's explore the similarities and differences between these two options:
1. Similarities
Connectivity: You can connect your call by using two sim card or esim from Cambodian networks to have your call, message, and data service.
Network Coverage: It is possible to obtain a SIM card or an eSIM which can cover Cambodian territory including the cities as well as rural areas, as well as popular tourists' places.
Mobile Operators: The most preferred mobile companies in Cambodia, for instance, Metfone Smartphone Cell card also have SIM cards and Esims to allow you to pick from the available choices depending on what you want or that of your phone model.
2. Differences
Here are the differences between a Physical SIM card and eSIM:
| | | |
| --- | --- | --- |
| Differences | SIM Cards | eSIMs |
| Physical vs. Virtual | Physical chip inserted into a device | Virtual SIM embedded directly into compatible devices |
| Activation Process | Purchase a physical card, register, and activate | Purchase the eSIM plan, and scan the QR code to activate |
| Device Compatibility | Wide range of devices supported | Limited to eSIM-compatible devices |
| Flexibility | Easily swappable between devices | Tied to a specific device, less flexible for switching |
| Storage Capacity | Limited storage capacity | Larger storage for multiple operator profiles |
So, which one is suitable for your Cambodia trip?
Your choice in using either of the cards depends on certain factors, including your own preference. Here are some considerations to help you decide:
Device Compatibility: Make sure that your device is capable of supporting an eSIM before deciding either a SIM card or an eSIM. However, not all the old models including most of the modern smartphones and devices support this function.
Convenience: Activation of the eSIM is easier compared to the conventional SIM card. You can buy an eSIM plan from online services like this one and then install your virtual SIM into any of your devices without getting out of bed. It may prove particularly helpful in situations where one wants to avoid looking for and fitting in a physical SIM card when on a trip away.
Flexibility: A conventional SIM card will suit those people who are fond of easy transition between different devices. A physical SIM card is easy to shift and can be moved easily from one gadget to the other, which makes it worthwhile in you have many gadgets or it needs sharing by others.
Storage and Profiles: However, eSIMs have more storage space where one can save several provider profiles in their device. Such as, in case you intend changing from a particular operator to another during your trip, or you want some distinct profile for business purpose and another for own purpose.
Lastly, for eSIM supported devices and convenient virtual SIM users, eSim could be a good bet. However, if you want to switch devices easily or it is not e-SIM compatible, then the traditional SIM will be adequate for your needs.
Note: To your Cambodia trip, one must conduct a study on available eSIM cards and data packs before one makes their choice. Then the user should consider device compatibility before deciding on the type of package they prefer. Finally, one must choose between various SIM- cards on offer in Cambodia.
VII. FAQs about Cambodia SIM Cards
What networks are available?
The main networks in Cambodia are Cellcard, Smart, and Metfone. All three networks have good coverage nationwide.
How do I get a Cambodia SIM card?
Cambodia SIM cards are readily available from the network operator stores located in airports, malls, and markets around the country. You'll need your passport to purchase and activate a SIM card.
How much do Cambodia SIM cards cost?
Basic SIM cards start around $1-2. Be aware that a small fee may also be charged to activate the SIM.
Is 4G/LTE available?
Yes, 4G coverage is expanding rapidly across Cambodia, especially in major cities and tourist areas. Check network coverage maps for your specific locations.
Can I use both a physical SIM card and eSIM simultaneously in Cambodia? 
It depends on your device's capabilities. Some smartphones and tablets support dual SIM functionality, allowing you to use both a physical SIM card and an eSIM simultaneously. However, not all devices have this capability, so check your device specifications.
Is there tax on SIM purchases and top-ups?
No, Cambodia SIM cards purchases and top-ups are not subject to additional taxes. Prices are advertised as actual retail prices.
VIII. Final words
Staying connected may be needed even in case of a short visit or a long stay when visiting Cambodia. Having read through this article now you can decide whether or not to buy a SIM card or eSIM. Therefore it is advisable to make sure you are connected all through your trip for your convenience and maximize this amazing country's wonders at this point.