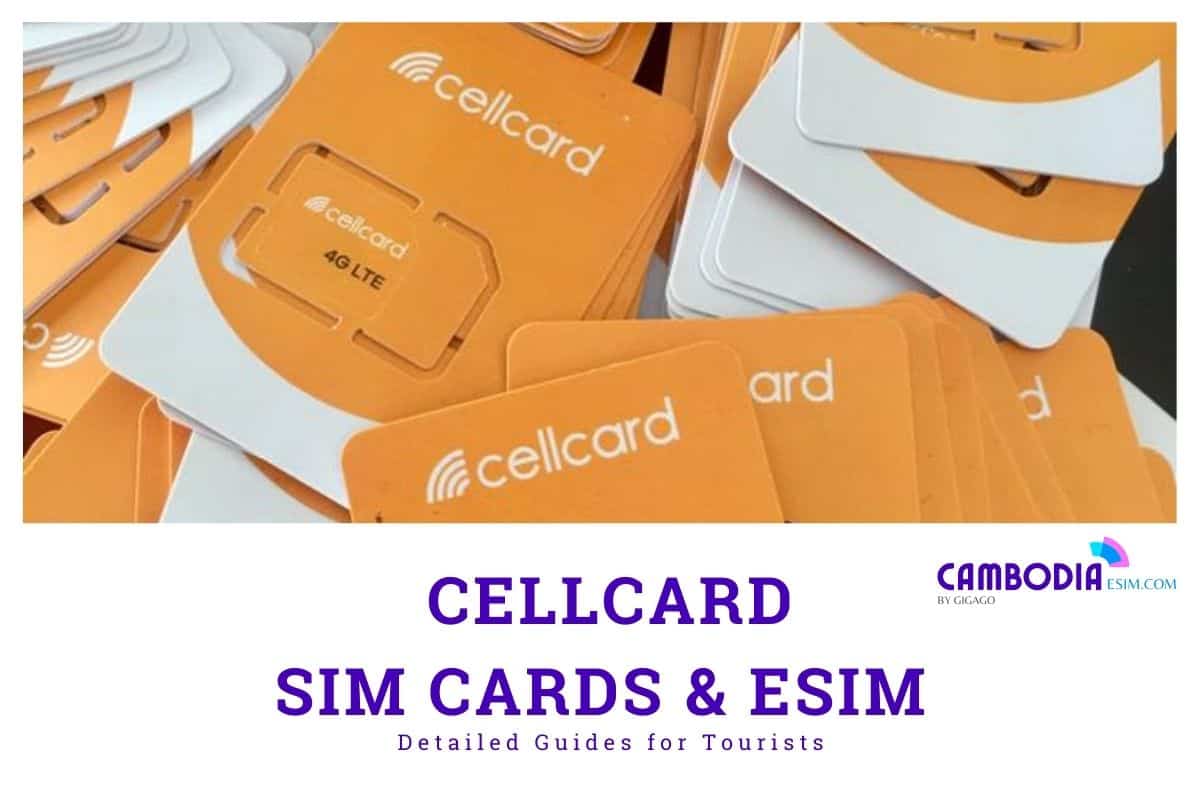 Cellcard is a mobile telecommunications company that operates in Cambodia. It is one of the leading telecommunications providers in the country, offering a wide range of services to its customers. Therefore, if you travel to Cambodia, Cellcard is a good choice for you. Let's check out some Cellcard eSIM and SIM card options for tourists in this post.
Table of Contents
I. Quick Facts about Cellcard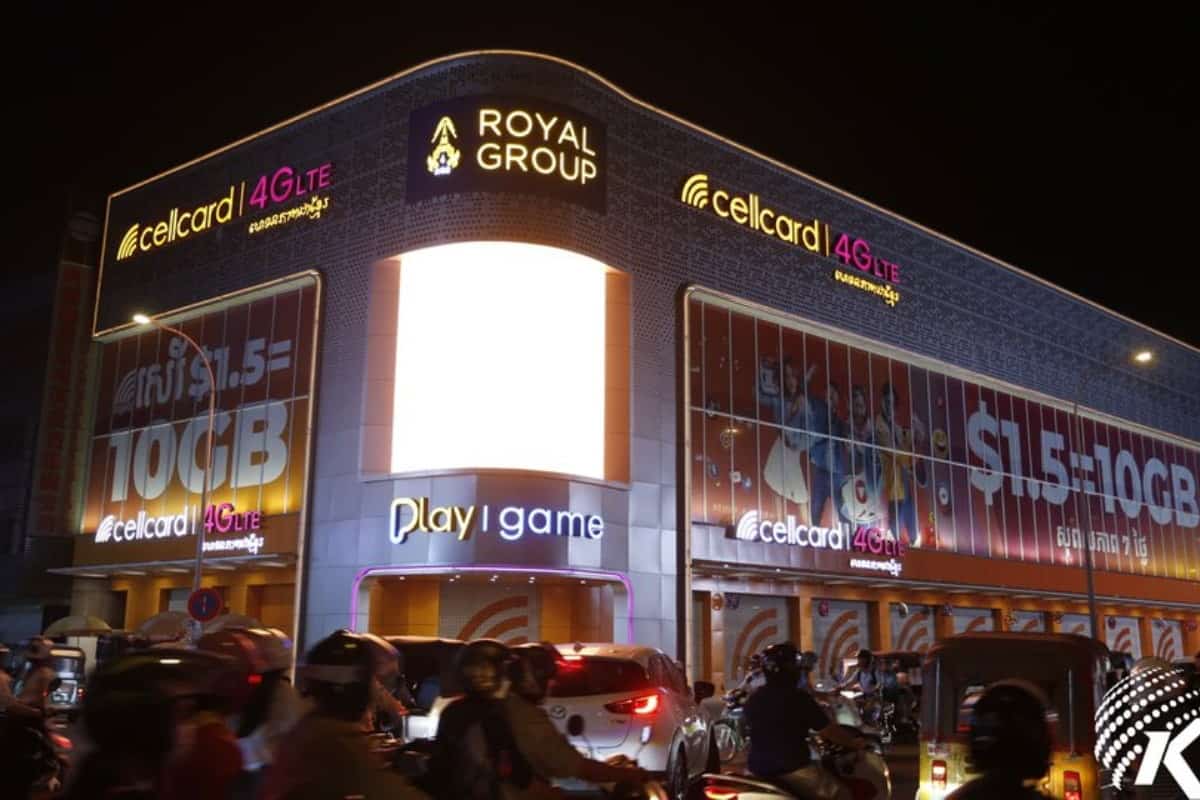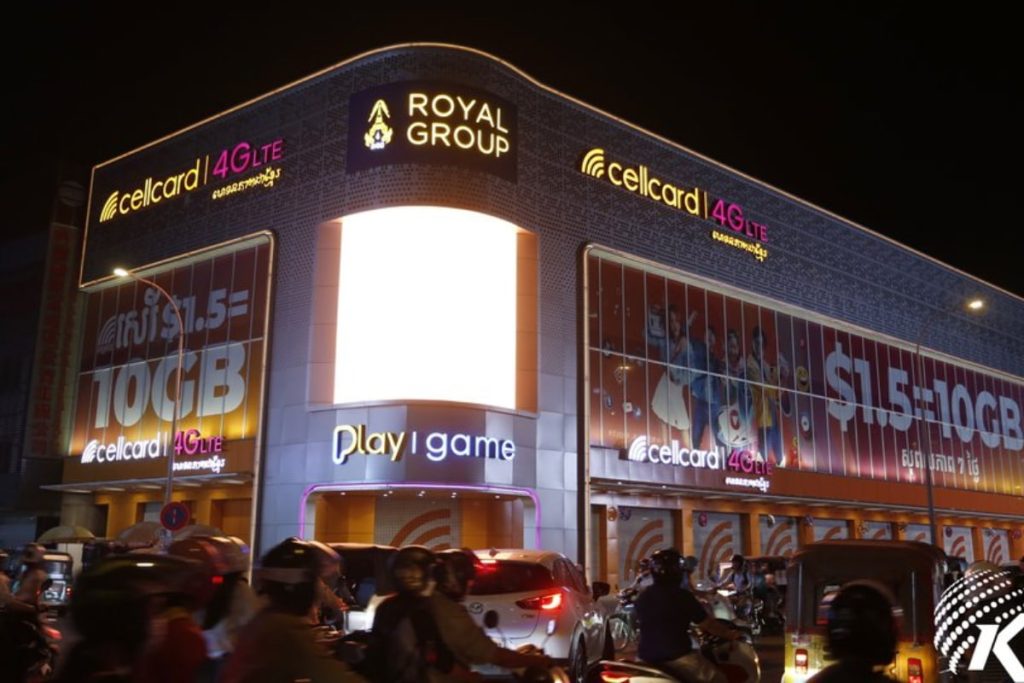 Cellcard is a mobile telecommunications company based in Cambodia. It is the largest mobile network operator in the country and provides a range of telecommunications services to its customers. Cellcard offers mobile voice and data services, including prepaid and postpaid plans, and value-added services, such as SMS, MMS, and mobile internet.
The company was established in 1997 and has since become a prominent player in the Cambodian telecommunications market. The Royal Group, a diversified conglomerate interested in various sectors, including telecommunications, media, banking, and real estate, owns it.
II. Cellcard Mobile Operator Services
Cellcard offers a range of mobile operator services to its customers in Cambodia. Here are some of the key services provided by Cellcard:
Voice services: Cellcard offers voice services that allow customers to make and receive calls within Cambodia and internationally. They provide both prepaid and postpaid voice plans to cater to different customer needs.
Data services: Cellcard provides mobile data services, allowing customers to access the internet, browse websites, use mobile applications, and stay connected on social media platforms. They offer various data plans, including daily, weekly, and monthly packages with different allowances.
SMS and MMS: Cellcard enables customers to send and receive text messages (SMS) and multimedia messages (MMS) to communicate with others. These services are often included in mobile plans or available as add-ons.
Mobile internet: Cellcard provides mobile internet services, allowing customers to access the internet on their smartphones or other mobile devices. They have invested in expanding their network infrastructure to offer reliable and fast internet connectivity.
Value-added services: Cellcard offers a range of value-added services to enhance the mobile experience for their customers. These services include mobile banking, mobile entertainment, ringback tones, caller ID, and more.
International roaming: Cellcard provides international roaming services, allowing customers to use their mobile phones while traveling abroad. This service enables customers to make and receive calls, send messages, and use data services while outside Cambodia, subject to specific roaming agreements with other mobile operators.
III. Cellcard Coverage in Cambodia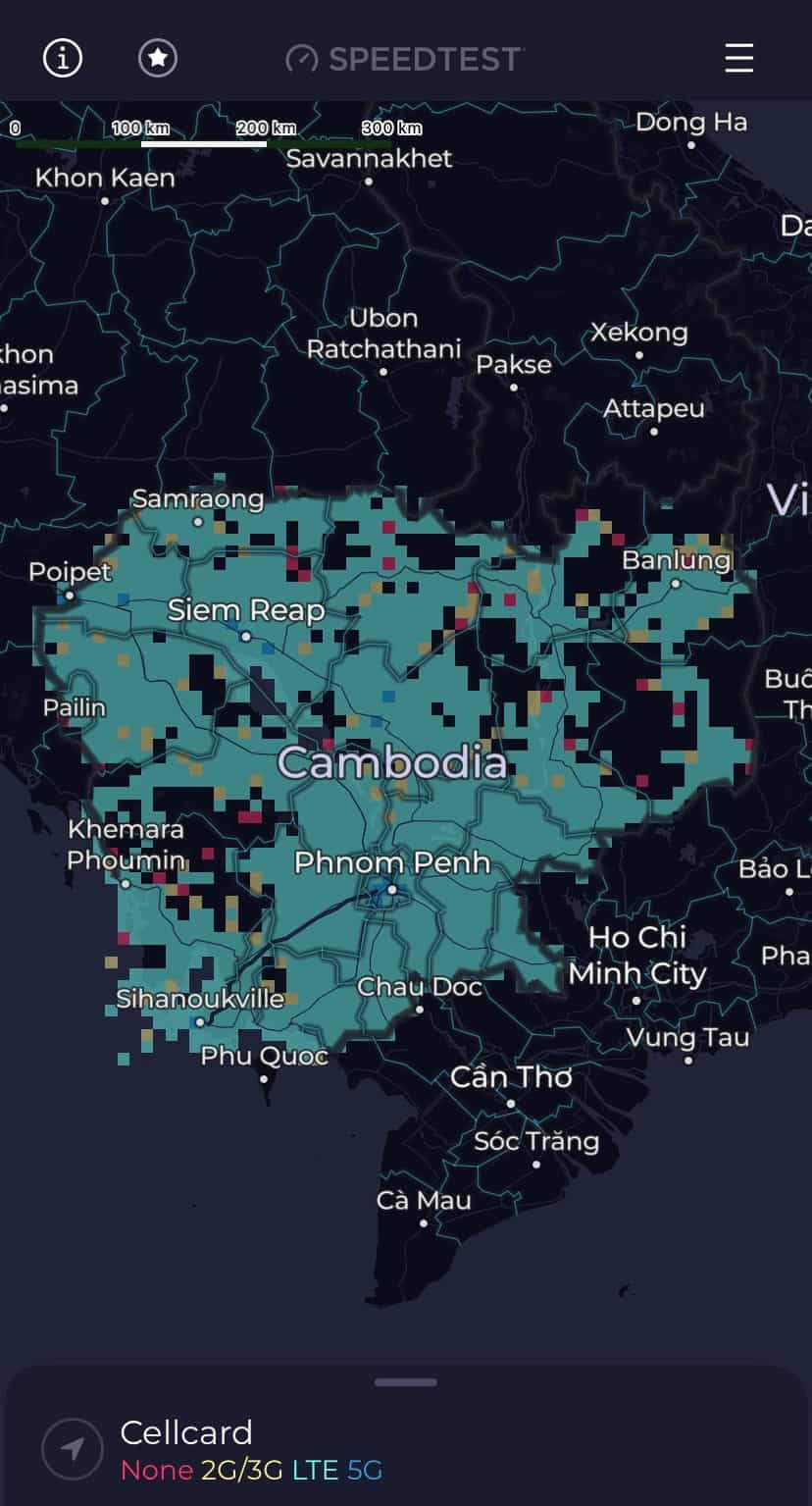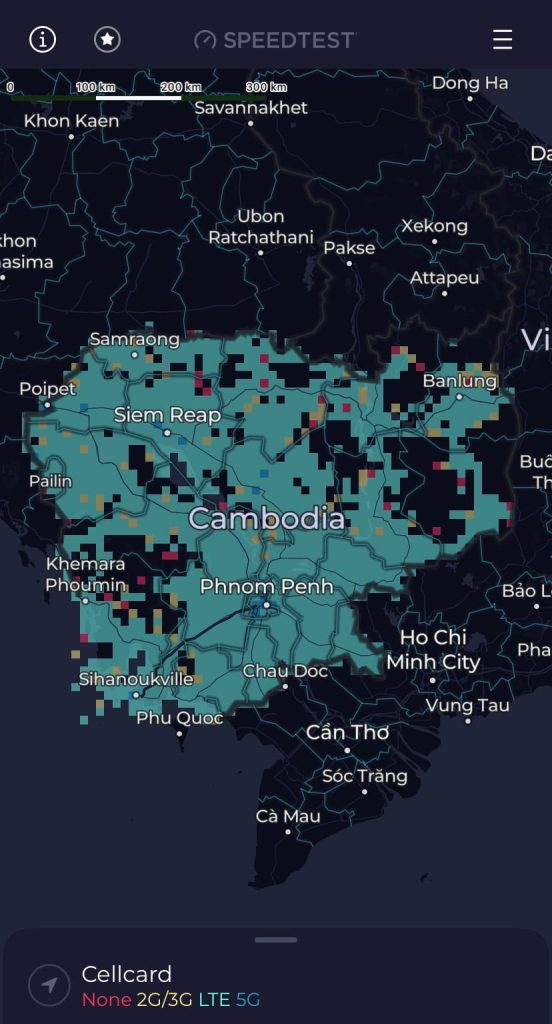 It offers coverage in various cities across the country. In the bustling capital city of Phnom Penh, as well as the popular tourist destination of Siem Reap, Cellcard ensures reliable network connectivity.
Other major cities include Battambang, Sihanoukville, Kampong Cham, Krong Preah Vihear, and Poipet. And Kampong Chhnang, Pursat, and Kandal also benefit from Cellcard's extensive coverage.
While this list represents some notable cities, Cellcard's network extends beyond these urban centers to reach numerous towns and rural areas across Cambodia. It's important to verify the most recent information from Cellcard directly or visit their official website to obtain precise details about network coverage in specific locations.
IV. Top Cellcard SIM Cards for Tourists
If you're planning to go to Cambodia and choose Cellcard as the network carrier for your trip, you can not miss this information about Cellcard SIM cards and eSIM for tourists. 
1. Top Cellcard SIM cards for Tourists
This table provides an overview of the different packages, including the data allocation, data bonus for the first subscription, on-net voice minutes and SMS, and the validity period for each package.
| | | | | |
| --- | --- | --- | --- | --- |
| Package | Data | Data Bonus (First Subscription) | On-Net Voice & SMS | Validity |
| Free Sim | 100MB | – | 10 mins, 10 SMS | 3 days |
| $3 Pack | 15GB | 15GB | 100 mins, 100 SMS | 7 days |
| $5 Pack | 25GB | 25GB | 2,500 mins & SMS | 30 days |
| $10 Pack | 50GB | 50GB | 5,000 mins & SMS | 30 days |
Cellcard SIM card packages
Notes:
All Cellcard SIM card package includes 50% OFF for Grab app.
When choosing a SIM card, you should carefully read the data allowance and voice and SMS, because the data may be included in the first subscription, you will need to top up or recharge to use.
2. Top Cellcard eSIM for Tourists
Cellcard offers an eSIM plan for only $5, with various benefits as below:
| | | |
| --- | --- | --- |
| Category | Amount | Validity |
| Data | 25 GB | 30 days |
| Data Bonus | 25 GB | 30 days |
| On-Net Voice | 2500 mins | 30 days |
| On-Net SMS | 2500 SMS | 30 days |
Cellcards eSIM plans for tourists
This table outlines the details of the plan, including the allocated data, data bonus, on-net voice minutes, on-net SMS, and the validity period, all of which are valid for 30 days.
Notes: This Cellcard eSIM plan requires you to complete the user profile by Passport or ID. If not, your eSIM number will be blocked from usage. Then, you can dial 812 or 1204 for assistance if it happens.
Besides the eSIM plans from network carrier- Cellcard, you can choose to buy the Cellcard eSIM from Cambodia eSIM provider. Cambodiaesim.com is one of the most outstanding eSIM providers for tourists coming to Cambodia.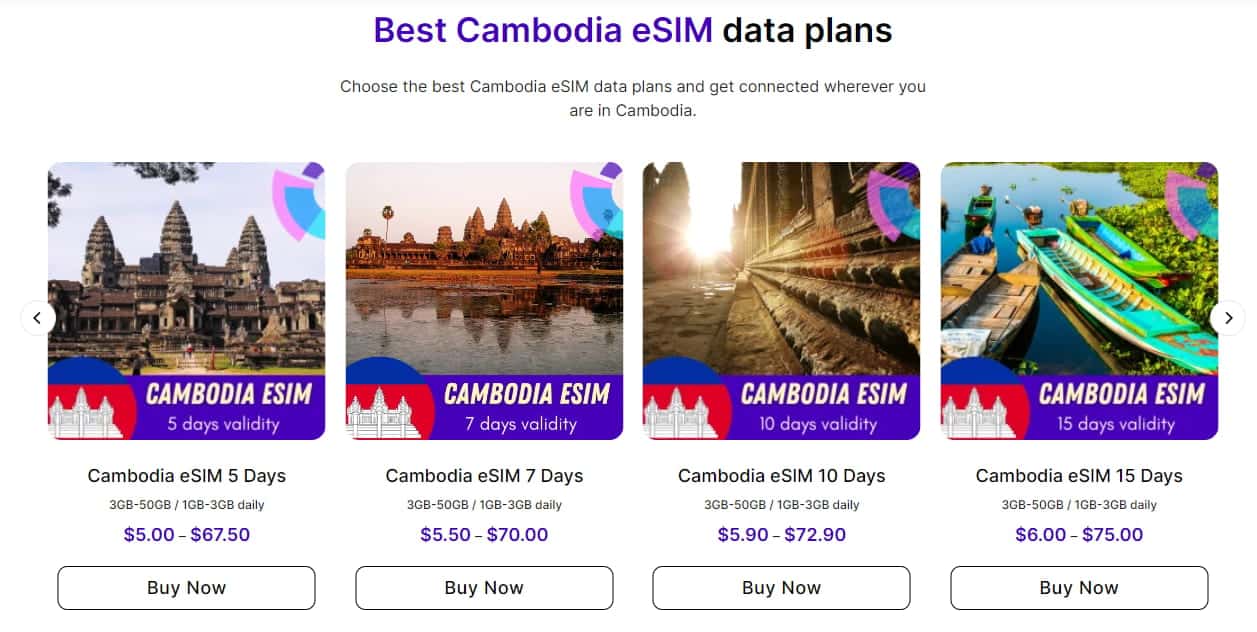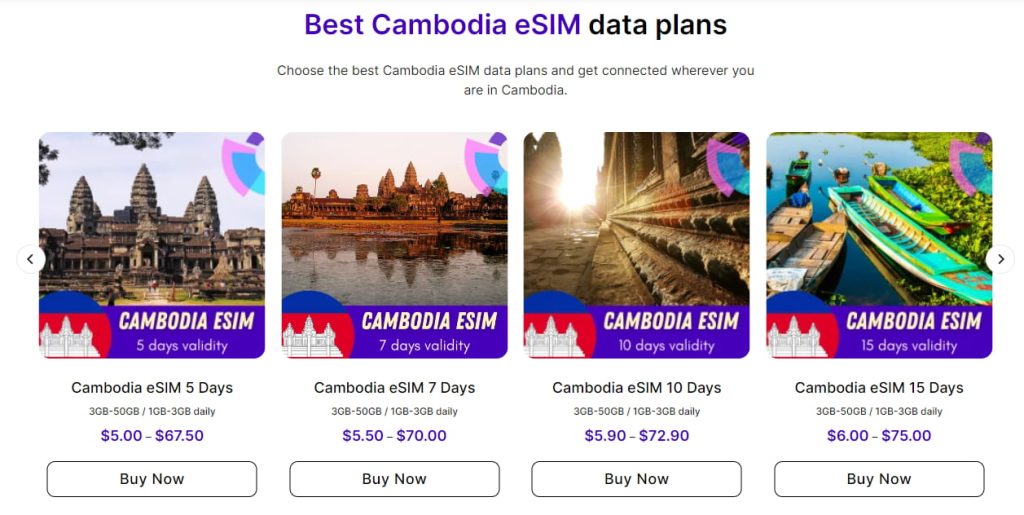 When choosing eSIM from Cambodia eSIM providers, you will not need to provide personal information like a passport or ID. Compared to only 1 Cellcard eSIM plan, you can also have more options for data and validity that will be suitable for your trip.
You can refer to the eSIM plans from CambodiaeSIM here: <Product shortcode>
Notes: If you're choosing eSIM as your option for your trip, you need to consider these things below:
Your device needs to be compatible with eSIM. Check the full list of eSIM-compatible devices.
Your device is unlocked. Carrier-locked devices can not use eSIM.
eSIM plans may automatically be activated when installed on the device, so you should install the eSIM one day before departure.
V. How Much Do Cellcard SIM Cards and eSIM Cost?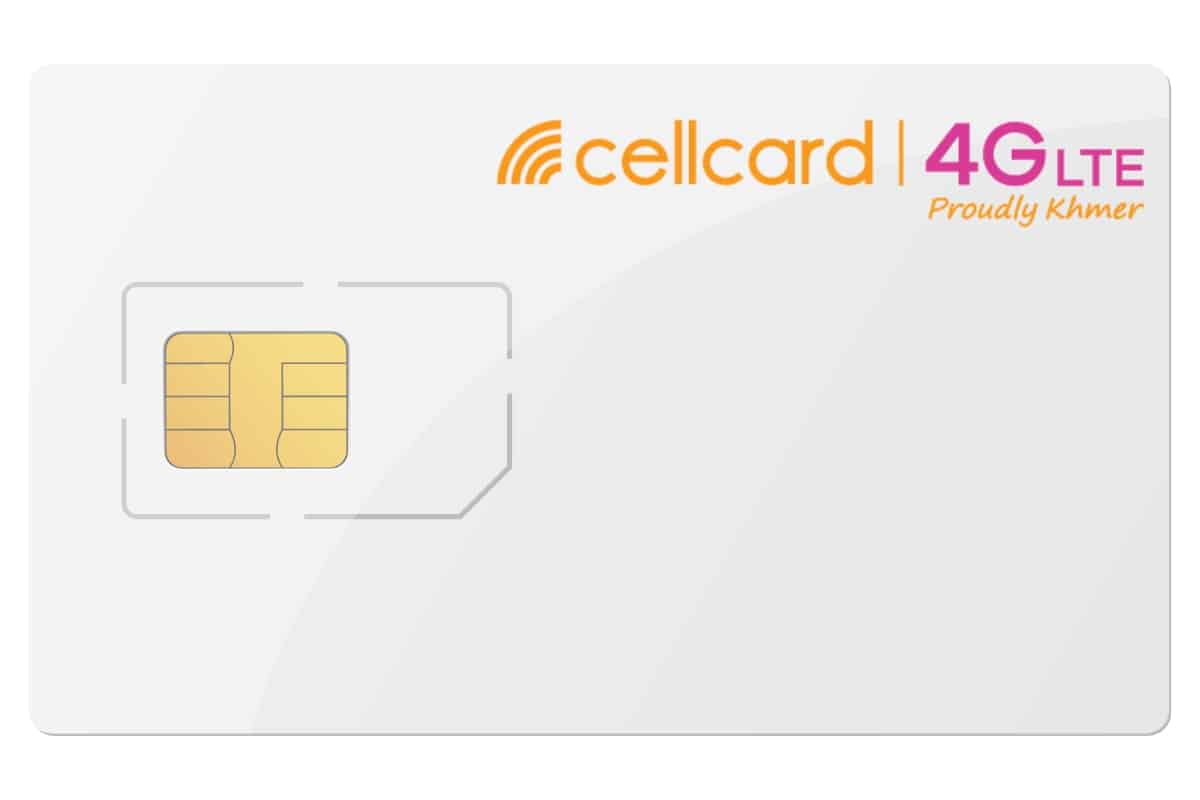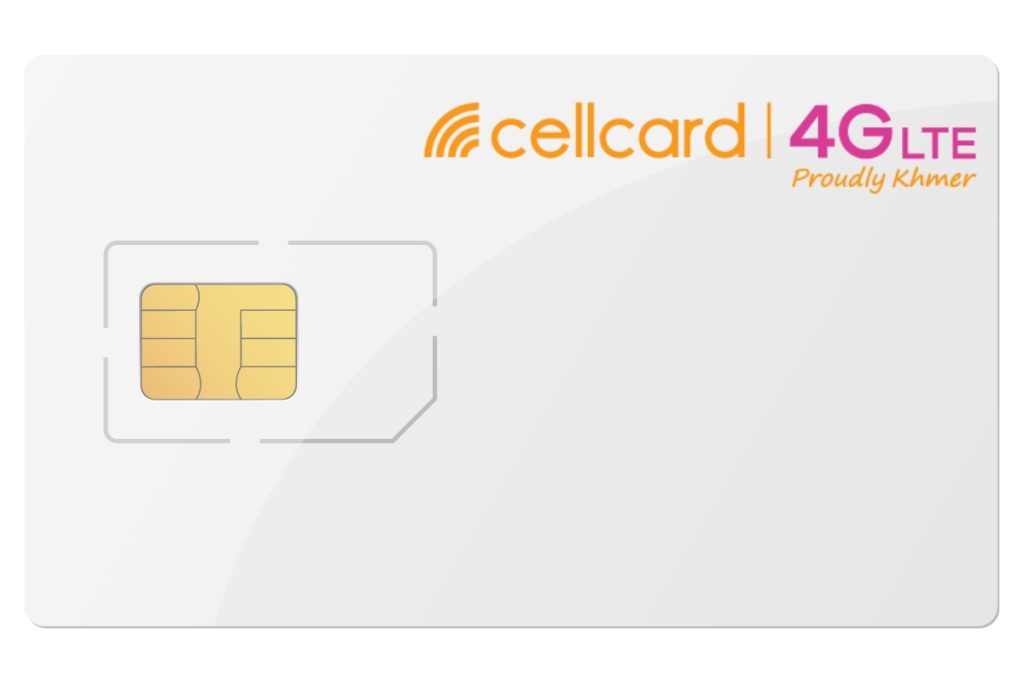 As you can see in the previous part, the Cellcard SIM card packages for tourists cost only around $3-$10. It's a reasonable price that can easily be added to the tour budget.
In Cellcard retail locations, a SIM card costs 1$. Both the Phnom Penh International Airport (PNH) and the Siem Reap International Airport (REP) provide Cellcard SIM card sales.
Short-term visitors and tourists can also get the Cellcard tourist SIM Pack – Cellcard's tourism offering.
For eSIM, the prices will be more varied depending on the data and validity option. It can be roundly from $3 to 80$. You can check out eSIM plans prices list of Cambodiaesim.com for reference:
VI. Calls and SMS Rate of CellCard in Cambodia
Certainly! Here's a table based on the provided information:
| | | | | | | | | |
| --- | --- | --- | --- | --- | --- | --- | --- | --- |
| Package | Data | On-net Calls | On-net SMS | Special Benefits | Unused Bundle | Validity | Price | Activation Code |
| 4U 10000 | 12GB | Unlimited | 1,200 SMS | Subscribe 3 Free 1 | Roll-over for 1 year | 7 days | 10,000 Riels ($2.50) | *5000*2# |
Calls and SMS rate of Cellcard in Cambodia
This table summarizes the package details, including the data allowance, unlimited on-net calls, on-net SMS, special benefits (such as subscribing to 3 and getting 1 free), the ability to roll-over unused bundle for 1 year, the validity period of 7 days, the price of 10,000 Riels ($2.50), and the activation code 50002# for activation or top-up purposes.
VII. How to Top up Your CellCard SIM Cards
If you already have Cellcard SIM cards, there are the following (online) Cellcard top-up options for you to choose:
Top up with scratch card:
You can buy the Cellcard scratch card with the price and package as below:
| | |
| --- | --- |
| Top-Up Amount | Validity |
| 1 USD | 7 days |
| 1.25 USD | 8 days |
| 2 USD | 15 days |
| 2.50 USD | 15 days |
| 5 USD | 30 days |
| 10 USD | 40 days |
| 20 USD | 60 days |
| 50 USD | 180 days |
Top-up packages of Cellcard
After buying a scratch card, you can top up using the USSD code below:
Dial *123*14-digit scratchcrads code#
Example: *123*12345678912345# and press call/send
To check the balance: Dial #823#
Online top up with Cellcard by credit cards:
You can directly go to Cellcard website at: https://www.cellcard.com.kh/en/top-up/online-top-up/ to top up by your own credit card. This option seems to be one of the most effective ways for tourist to top up their Cellcard SIM cards.
Top up with Paygo machine:
There are more than 145 branches nationwide Paygo machine across Cambodia that you can top up your SIM card there.
Top up with eWallets or Mobile Bank Apps:
If you have eWallet and Mobile banking apps in Cambodia, you can choose this option. However, this option is not suitable for almost all tourists.
VIII. How to Check CellCard Balance – All CellCard USSD Codes that You Need to Know
To top up SIM Cellcard:
| | |
| --- | --- |
| Action | Dialing Code |
| Top up with voucher code | *123*VoucherCode# |
| Example: voucher code is 123456 | *123*123456# |
| Top up online with debit/credit cards | – |
| Check Cellcard balance | #823# |
| Top up on Cellcard app | Android/iOS/Huawei AppGallery |
Cellcard USSD codes
IX. Where to Buy Cellcard SIM Cards and eSIM?

When already picking Cellcard as a network carrier, you may concern about where to buy Cellcard eSIM and SIM cards. This part will help you out.
1. Where to Buy a Cellcard SIM card?
To purchase a Cellcard SIM card, you can visit any authorized Cellcard store or retailer in Cambodia. Cellcard has a widespread presence across the country, and their SIM cards are readily available in various locations. Here are a few options to consider:
Cellcard stores: You can visit any Cellcard-owned stores or outlets in major cities and towns. These stores are dedicated to providing Cellcard services and products, including SIM cards.
Retailers: Cellcard SIM cards are also available at authorized retailers such as convenience stores, mobile phone shops, and supermarkets. Look for the Cellcard logo or ask for assistance to find the nearest retailer selling Cellcard SIM cards.
Online: Cellcard SIM cards may also be available for purchase through online platforms. Visit the official Cellcard website or check popular e-commerce websites in Cambodia to see if they offer Cellcard SIM cards for online ordering.
Cellcard website or contact their customer support for specific information about store locations, authorized retailers, and online purchasing options.
Tips: It's recommended to check the
2. Where to Buy Cellcard eSIM?
There are 2 options for buying Cellcard eSIM for tourists.
Upgrade to eSIM on the Cellcard website: You can directly contact Cellcard for upgrading your SIM card package to eSIM plan.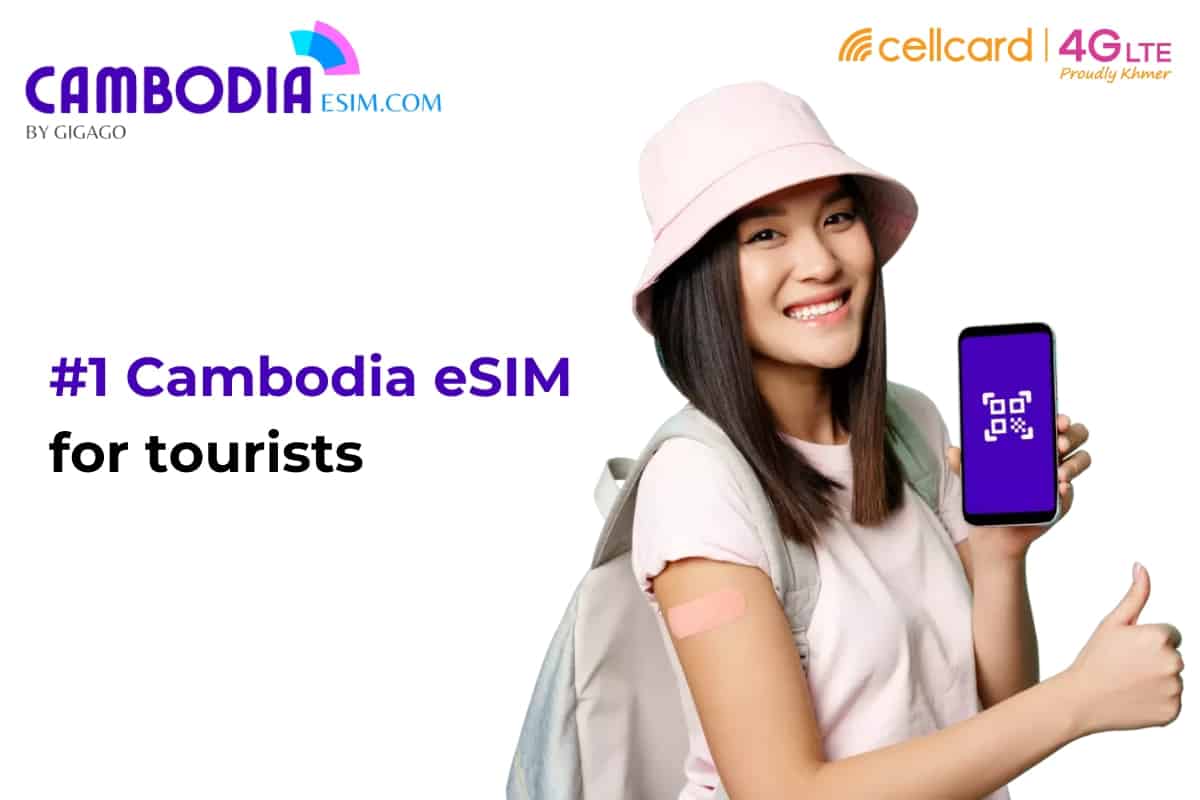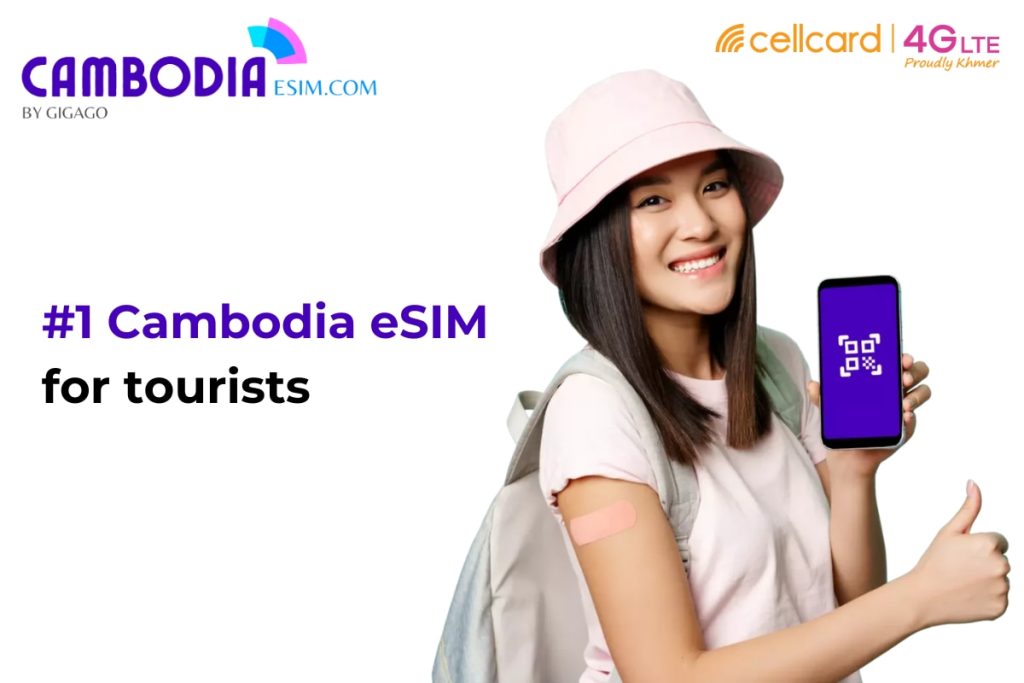 Buy Cambodia eSIM from eSIM providers: You can choose an eSIM provider like Cambodiaesim.com for an eSIM plan. You can head to the website > pick one eSIM plan > make an online order > make a payment > receive eSIM QR code via email > install and start using.
X. CellCard Mobile Operator Pros and Cons
1. Pros
Wide Coverage: Cellcard offers wide network coverage in Cambodia, ensuring a strong and reliable connection in many areas.
Data Plans: Cellcard provides a variety of data plans and packages, allowing users to choose a plan that suits their needs and budget.
2. Cons
Limited International Coverage: While Cellcard provides international roaming services, its coverage outside of Cambodia may be limited compared to some other international providers.
Limited Value-Added Services: Although Cellcard offers value-added services, the range of services may be more limited compared to certain competitors in the market.
Network Quality: While Cellcard has wide coverage, some users may experience fluctuations in network quality or signal strength in certain areas.
XI. FAQs about Cellcard
Where can I go for help if I need more information?  
Visit any Cellcard location or call 1204.
Where can I go for help if I need more information?  
To temporarily suspend your eSIM profile, dial 812 or 1204. To get a replacement SIM card or eSIM, go to a Cellcard outlet. If you later find your smartphone, we can also reconnect your eSIM.
XII. Final Words
Finally, we discovered CellCard top up, eSIM, and SIM Card for travelers….. I hope you find this post useful. If you have any questions, please contact us via our website, phone number, or social media platform.