Smart Axiata is Cambodia's leading mobile operator, having the widest, most dependable, and most trusted network. Smart Axiata provides 4G and 5G mobile services that are used by almost 99% of Cambodia's population. Let's find out more about Smart Axiata SIM cards in this article.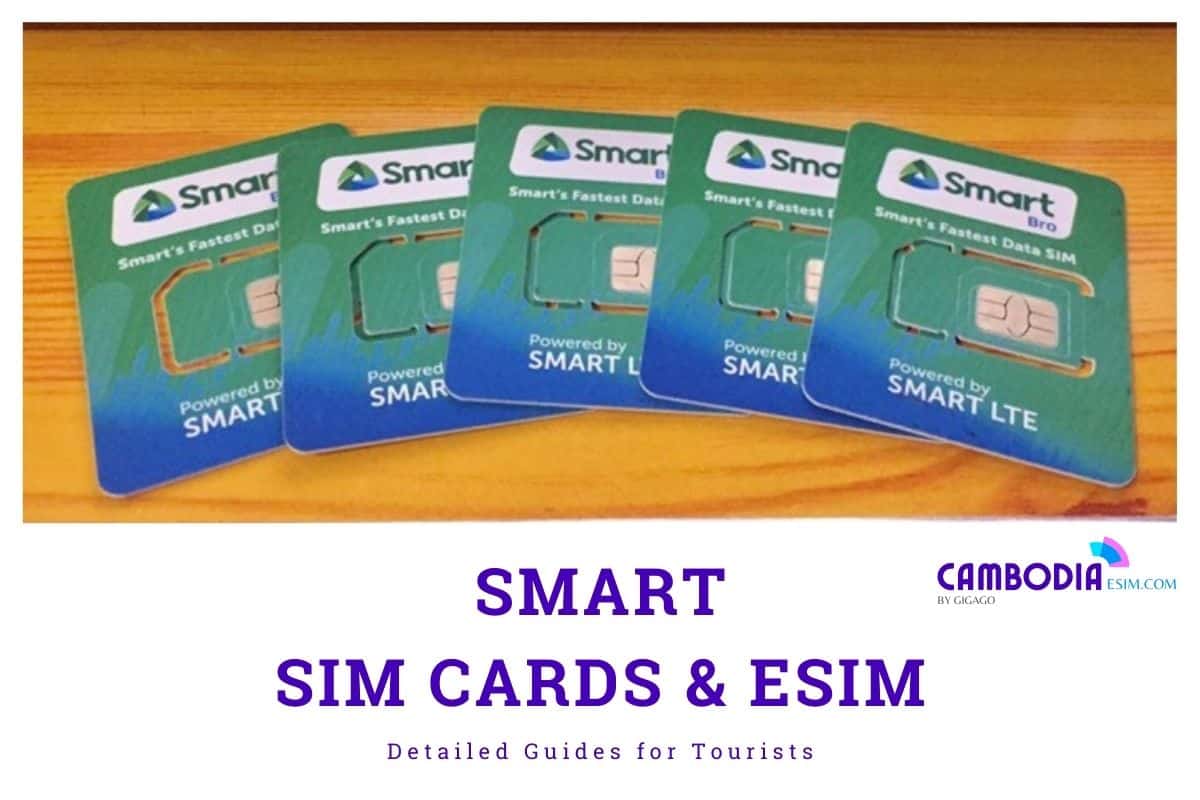 Table of Contents
I. Quick Facts about Smart Axiata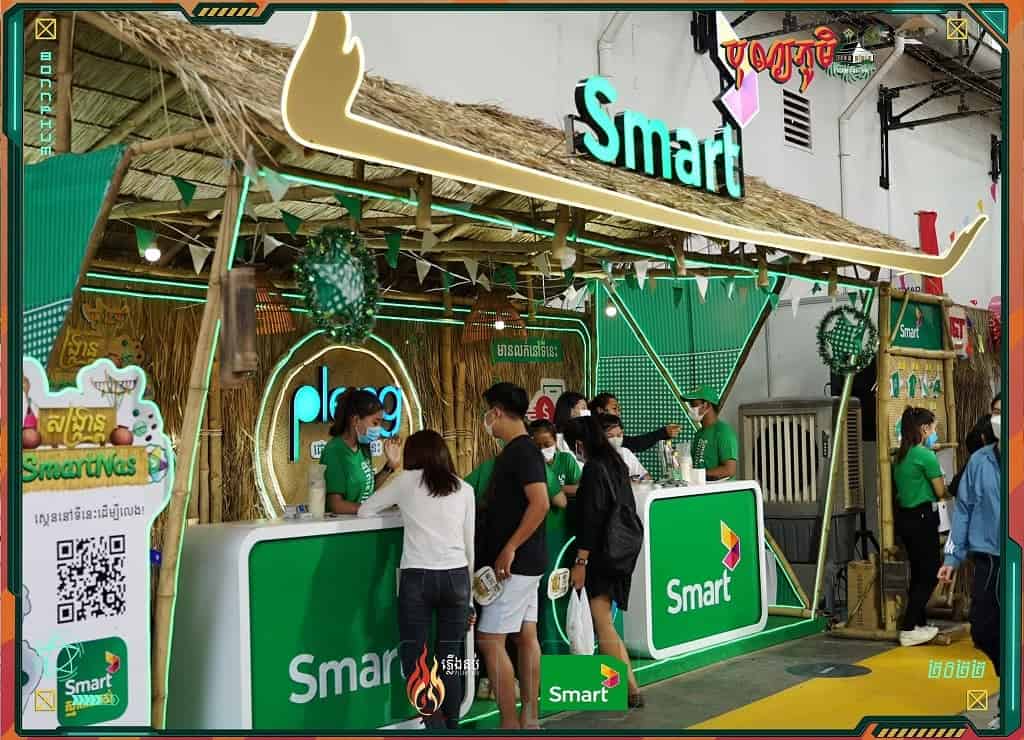 Smart Axiata is one of Cambodia's leading mobile network operators. It was founded in 2008 and is a part of one of the biggest telecom operators in Asia, Axiata Group Berhad.
Smart is a leader in mobile technology advancement in Cambodia. Smart was the first network to launch 4G LTE in 2014, followed by 4g LTE(commonly known as 4G+) Advanced in 2016, then 4.5G with HD Voice (VoLTE) in 2017. It also provided the first 5F live display in mid-2019, demonstrating its data leadership position in Cambodia. In addition, Smart offers international roaming services in over 190 countries. Its extensive countrywide network reaches 99% of Cambodia's population.
Smart intends to be Cambodia's #1 and most loved communication technology brand by 2022 while maintaining a strong corporate social responsibility and sustainability agenda for national socioeconomic growth.
II. Smart Axiata Mobile Operator Services
Smart Axiata offers its customers a wide range of mobile communication services, from basic voice and messaging services to high-speed mobile data and value-added services such as money, insurance, music video, add-on… Smart Axiata is devoted to providing its customers with the most modern mobile technology to satisfy their changing needs through a creative and customer-focus strategy.
Smart Axiata Mobile Operator Services are:
Voice services: Smart Axiata provides a variety of voice services, such as smart voice mail, missed call alerts, voice messaging, conference calls, and other local and international voice calls.
Data services: Smart Axiata offers its users high-speed mobile data services, including 3G, 4G, and also 5G internet. The company provides a variety of data packages, including unlimited and add-on data plans.
Messaging services: High-Quality SMS and MMS messaging services are provided by Smart Axiata. Consumers can send messages, images, and videos to other customers and other networks easily.
Value-Added Services: A variety of value-added services are provided, such as music streaming, mobile gaming, and content subscriptions. The company also offers mobile payment services and has relationships with many retailers and service providers to provide its clients with discounts and promotions.
Roaming services: The company also gives international roaming services, which allow consumers to use their mobile services when traveling overseas.
III. Smart Axiata Coverage in Cambodia
Smart Axiata provides countrywide network coverage. The company operates on 3G, and 4G/LTE networks, and it is currently working on 5G in Cambodia.
The Smart networks cover approximately 99% of Cambodia's population and all 25 provinces. The company has made significant investments in developing its network infrastructure in order to provide clients with high-quality, dependable mobile services.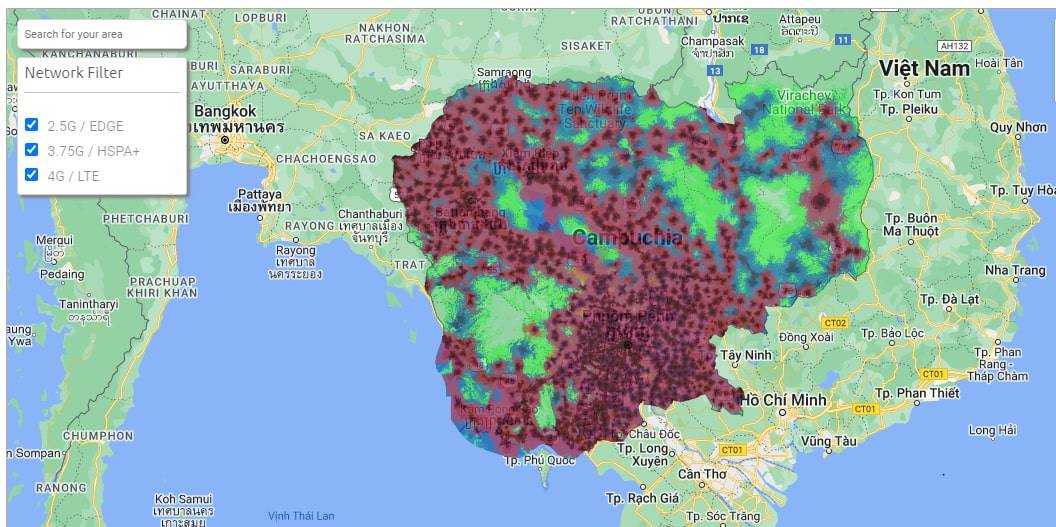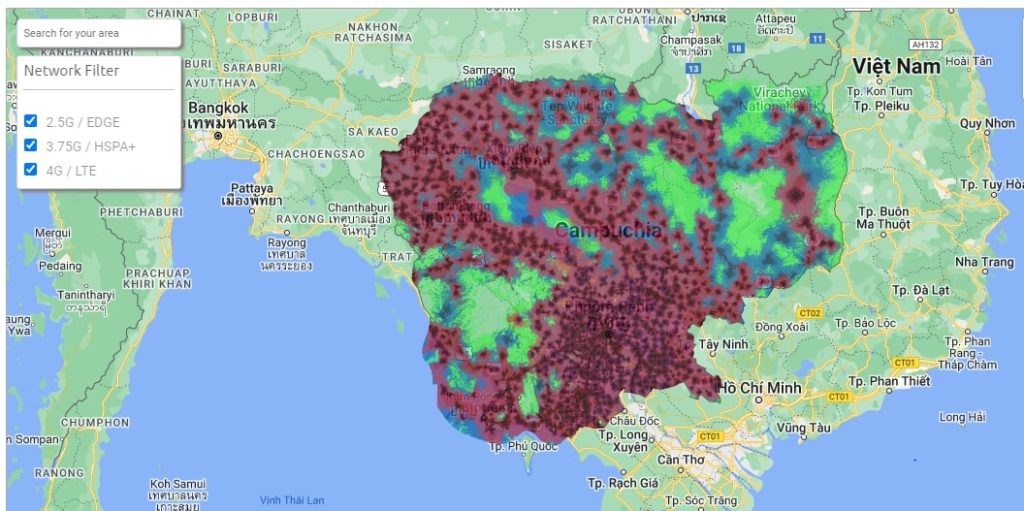 The network coverage of Smart is notably high in urban areas, such as Phnom Penh and other major Cambodian cities. In addition, the corporation has made major efforts to improve its coverage in rural areas where mobile connections may be limited. 
Overall, Smart's network coverage in Cambodia is extensive and dependable, delivering high-quality mobile services to clients no matter where they are in the country.
IV. Top Smart Axiata SIM Cards and eSIM for Tourists
1. Top Smart Axiata eSIM for Tourists
The Smart eSIM is available at any Smart Shop around the country. You may also acquire it for free with the SmartNas app by following these steps:
Step 1: Install and launch SmartNas.
Step 2: Press the "More" button.
Step 3: Select "eSIM Activation" from the drop-down menu.
Step 4: Press the "Activate eSIM now" button.
Step 5: Press the "Proceed" button.
Step 6: Enter the confirmation code and then click "Ok."
Step 7: To finish the process, follow the instructions in SmartNas.
To activate the eSIM, you must have an active number and a main balance of at least $2 USD. Except for the Chinese versions with the code ZA/A, which only accept twin physical SIM cards, you can only activate the eSIM via SmartNas with the iPad Air 3, Mini 5, and Pro, and the iPhone XS, XS Max, XR, 11, 11 Pro, 11 Pro Max, SE, 12, 12 mini, 12 Pro, and 12 Pro Max.
In addition, you can purchase a Smart eSIM from online providers like CambodiaeSIM.com. The advantages of this option are:
You don't need to wait in line at the airport to buy it.
You don't need to show your passport to register for an eSIM.
There are more data and validity options for you to choose from.
You can refer to some Cambodia eSIM plans below:
Tip: Explore more Cambodia eSIM plans to choose the one that suits you best.
2. Top Smart Axiata SIM cards for Tourists
There're two Smart Axiata SIM card plans for tourists:
Smart Traveler SIM (FREE)
Smart Traveler SIM Standard (only $5)
Those traveling to Cambodia on a limited budget or for an extended period of time will be able to stay in touch with friends, family, and the rest of the world thanks to the generous 25GB of data included in the Smart Traveller SIM Standard package. The 5 USD Standard plan includes UNLIMITED on-net calls and SMS.
V. How Much Do Smart Axiata SIM Cards and eSIM Cost?
The price of Smart Axiata SIM Cards relies greatly on the amount of data available and the number of days this data is valid. However, SIM cards with a lot of data can be had for a relatively low price. Remember that low-cost SIM cards may connect to a low-quality network, resulting in a low price.
With the Smart Axiata SIM cards, you'll get UNLIMITED on-net calls and SMS with the 5 USD Standard plan for 15 days. 
If you are an existing Smart customer and want to switch from a physical SIM card to an eSIM, you must pay the regular 1 USD price. This is likewise true for eSIM replacements.
If you buy a Cambodia eSIM from online providers, such as CambodiaeSIM.com, the price will range from $3 to $80, depending on the data and validity option you choose.
Tip: Explore more Cambodia eSIM plans to choose the one that suits you best.
Notes: If you're choosing a Cambodia eSIM for your trip, there are a few things you need to know:
Your phone must be compatible with eSIM. Please check the Cambodia eSIM Compatible Devices List.
Your phone must be unlocked.
Your eSIM plan may be automatically activated after being installed on your device. Therefore, you should install it one day before your departure.
VI. Calls and SMS Rate of Smart Axiata in Cambodia
The rates for calls and SMS are frequently determined by your SIM package. The rates are frequently among the following:
| | | |
| --- | --- | --- |
| Calls | SMS | Data |
| On-net call: 7 cents/minute | On-net SMS: 3 cents/SMS | 2.5 cents/MB |
| Off-net call: 9 cents/minute | Off-net SMS: 5 cents/SMS | |
| International calls: from 3 cents/minute  | International SMS: 10 cents/SMS | |
VII. How to Top up Your Smart Axiata SIM
There are 3 ways to top up your Smart Axiata SIM card: 
Top-up Card: You can easily get a Smart Axiata top-up card at most retail outlets and service facilities in Cambodia. Customers can add credit to their Smart Axiata account by scratching off the silver surface on the card, revealing a unique code. Then you just have to text your number and the code to the website.
Online top-up: Customers can also top up their Smart Axiata SIM cards online using the company's website or mobile app. Customers can top up their accounts from anywhere with this option, which requires a credit or debit card. You can also use your online wallet, like Alipay, to top up.
Bank Card or Mobile Banking: Customers can also utilize their bank's mobile banking services to top up their accounts. This method necessitates the use of a registered bank account and may entail additional expenses.
It's worth noting that some top-up options may charge additional fees or have minimum and maximum top-up amounts. For more information on prices and limits, customers can contact their service provider or the top-up vendor.
VIII. How to Check Smart Axiata Balance – All Smart Axiata USSD Codes that You Need to Know
There are 2 ways to check your Smart Axiata balance:
1. Dial a USSD Code
You can confirm your Smart Axiata Cambodia phone number by using one of the following USSD codes: *1#, *887#, or *400#. You should receive a message validating your phone number after entering the code. This procedure is simple and quick, plus you'll have confirmation that it works.
2. Make Contact with Your Service Provider
If you are experiencing problems validating your Smart Cambodia phone number with the USSD codes, please contact your service provider. They should be able to help you with any problems you're having and verify your phone number. You can call their 24/7 Call Center at 1204 or +85510200888.
There are a few more instructions on how to check your balance and other code you may need.
| | |
| --- | --- |
| Active SIM Card | Dial *313# |
| Check your bonus balance | Dial *205*888# or go to the SmartNas app. |
| Check your purchase with well-chosen sellers. | Call the center at 1204 and ask them to check for you. |
| Check your Smart @Home balance | Check on app |
| Check your remaining StreamOn balance | Dial *700*8888# |
| Check members are in Smart PowerLus Sharing | Dial *700*11# |
| Check Smart Thomorng! Weekly/ Daily bonus | Dial *1333*888#. |
| Check profile  | Dial *1202# |
| Check the registered SIM card  | Dial *1202# |
| Deactivate roaming | Dial *313*0# |
| Reactive roaming | Dial *313# |
IX. Where to Buy Smart Axiata SIM Cards and eSIM?
As a visitor to Cambodia, you will have several options for purchasing a Smart Axiata SIM card and eSIM to stay connected during your vacation.
1. Where to Buy Smart Axiata eSIM?
You can easily buy Smart Axiata eSim through several channels, such as:
Smart Axiata website: You can acquire a Smart Axiata eSIM by following the steps on their eSIM page on the Smart Axiata website.
Smart Axiata stores: Smart Axiata eSIMs can be purchased through Smart Axiata stores. You may find the nearest Smart Axiata store by visiting their website or using their mobile app.
Airport counters: If you arrive in Cambodia via plane, you can purchase a Smart Axiata eSIM at the Smart Axiata airport counter.
ESIM providers: A variety of eSIM providers offer Smart Axiata eSIM with a variety of customized choices and competitive pricing. CambodiaeSIM.com is one of them. They offer various eSIM plans to travelers visiting Cambodia, making it easier for you to stay connected during your trips.
Tip: Explore more Cambodia eSIM plans to choose the one that suits you best.
2. Where to Buy a Smart Axiata SIM Card?
Smart Axiata SIM cards can be obtained in a variety of locations throughout Cambodia, including:
Smart Axiata retail stores: In Cambodia, Smart Axata operates approximately 41 retail stores and service centers where clients may buy Smart Axiata SIM cards and other mobile services.
Airport: Simply go to the Smart Booth at the international airports in Phnom Penh or Siem Reap to receive your Smart Traveller SIM.
X. Smart Axiata Mobile Operator Pros and Cons
Smart Axiata offers its own set of advantages and disadvantages. Here are some of the benefits and drawbacks of using Smart Axiata:
1. Pros
Network coverage: Smart Axiata offers dependable client access in even the most difficult settings with its extensive network coverage throughout Cambodia, including rural and remote areas.
Innovative services: Smart Axiata places a significant emphasis on innovation, frequently offering new services and features to satisfy the changing needs of its clients.
Value-added services: Smart Axiata provides a range of value-added services, including entertainment, lifestyle goods, and digital content. These provide users with extra advantages and rewards, such as access to streaming music, video, and gaming services.
Corporate social responsibility: Smart Axiata is dedicated to supporting the community through a variety of CSR programs. The business has started a number of initiatives to help healthcare, education, and Cambodian society's environment.
2. Cons
Pricing: Smart Axiata''s mobile services can be more expensive than those of other Cambodian mobile network providers, particularly for those who need a lot of data or voice.
Limited international coverage: While Smart provides international roaming services, its coverage in some nations may be restricted or nonexistent, which can be annoying for consumers who frequently go overseas.
Customer service: Customers have complained about excessive wait times and difficulty getting their problems fixed while contacting Smart's customer service.
Data speeds: Smart's network has a wide range of coverage, although some users have complained of sluggish data rates, especially at times of high usage.
With extensive network coverage and cutting-edge services, Smart Axiata is a potent mobile network provider in Cambodia. Before picking Smart Axiata as their mobile operator, clients should think about cost and data speeds.
XI. Smart Axiata vs. Other Cambodia Mobile Operators
According to OpenSignal, the strongest performance was by Smart Axiata, which earned four joint victories (Video Experience, Game Experience, Upload Speed Experience, and Availability) in addition to three outright victories (Voice App, 4G Availability, and Core Consistent Quality).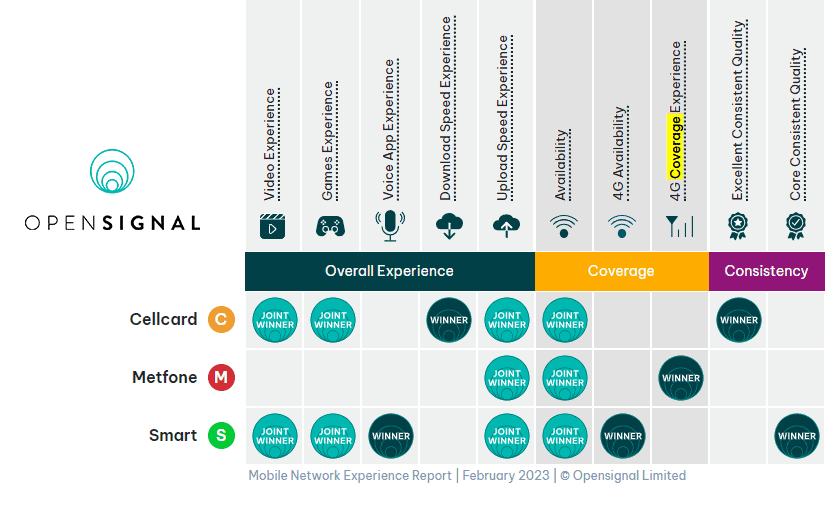 XII. Smart Axiata SIM Card Alternatives for Tourists
There are 3 Smart Axiata SIM card alternatives for tourists to Cambodia:
Metfone: The most well-liked mobile provider in Cambodia is Metfone, which has a strong signal and a dependable broadband connection. It is advised to use Metfone for a flawless experience if you intend to travel to isolated places. For $5 USD and a 7-day validity period, you can obtain 20 GB of data in Cambodia with a Metfone prepaid SIM card. This package is best used for a limited time. Metfone provides additional prepaid SIM card bundles for extended periods. The $7 USD bundle, which offers 40 GB of data and is good for 14 days, is an option. There is also a $12 USD bundle available that comes with 40 GB of data but is only good for 30 days. These choices are appropriate for people who need more information and a longer validity period.
Cellcard: Among Cambodia mobile operators, Cellcard ranks third. They offer a $3 plan with 15 GB of data on their prepaid SIM card options, valid for 7 days. If you require a longer duration, you can opt for the Cellcard's $10 Package prepaid SIM card, priced $10, which includes 50 GB of data and remains valid for 30 days.
Smart eSIM: This is one of the best alternatives to a Smart SIM card, and you can purchase it from online providers like CambodiaeSIM.com. The great thing about this option is that you don't have to wait in line or show your passport to buy a SIM. Additionally, there are numerous data and validity options for you to choose from.
Tip: Explore more Cambodia eSIM plans to choose the one that suits you best.
XIII. FAQs about Smart Axiata SIM Cards
1. What identification must I bring when I visit a Smart Shop to get a new Smart Axiata SIM card?
A valid choice from the list below is:
National ID card.
Passport.
Government ID card.
Monk ID card.
2. Which Smart Axiata SIM card categories are offered?
For compatible devices, Smart offers physical SIM cards in three different sizes (regular, micro, and nano) as well as eSIMs.
3. Where do I find Smart Axiata SIM cards?
Airports, Smart stores, and convenience stores all sell Smart SIM cards.
4. Is it possible to extend the life of my Smart Axiata SIM card?
Yes, you can add more credit to your Smart SIM card to prolong its expiration date.
XIV. Final Words
Smart Axiata provides reliable and affordable prepaid SIM card options that can keep tourists fully connected during their visit to Cambodia. Whether you need a minimal data package for basic navigation and messaging or want unlimited social media usage, there is a plan to suit every budget on Smart's extensive prepaid menu.